Profile – Douglas Adams
Founder and Co-Director, Laboratory for Systems Integrity & Reliability (LASIR)
Daniel F. Flowers Professor
Distinguished Professor and Chairman of Civil and Environmental Engineering
Vanderbilt University
Email: douglas.adams@vanderbilt.edu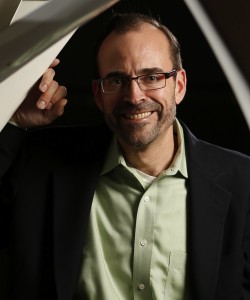 Education
Ph.D., University of Cincinnati, 2000
M.S., MIT, 1997
B.S., University of Cincinnati, 1994
Research Interests
Nonlinear structural dynamics and vibrations
Structural health monitoring/diagnostics and damage prognosis
Noise and vibration control
Applications in aerospace and automotive systems
Applications in energy systems including wind turbines and batteries
Applications in defense and security platforms
Brief Biography
Douglas Adams was appointed Distinguished Professor and Chair of the Department of Civil and Environmental Engineering July 1, 2013. He is the director of the new Laboratory for Systems Integrity and Reliability at Vanderbilt, which uses multi-modal sensing and analytic techniques to illuminate the complex ways in which materials and machines degrade.  The goal of this research is to safeguard human lives while controlling the lifecycle cost and reliability of infrastructure that the nation relies on for its energy, security, and transportation needs. Previously he was the Kenninger Professor of Renewable Energy and Power Systems in the School of Mechanical Engineering at Purdue University, where he also served as founding Director of the Purdue Center for Systems Integrity.
He has published 72 archival journal papers, 164 conference papers, several book chapters, and a textbook on structural health monitoring, and he has graduated 14 Ph.D. and 29 M.S. students. His work has generated 13 patents, and he is actively implementing this technology with industry to more effectively manage system reliability while reducing the operation & maintenance costs of defense and energy systems. Adams has secured 93 federal and industrial contracts/grants for $29M in funding.
He has received the Presidential Early Career Award for Scientists and Engineers, the DiMichele Award from the Society for Experimental Mechanics, and a U.S. Army Technical Medal of Achievement.  He is winner of the Purdue University Murphy Award for excellence in teaching and his name is recorded in the Purdue Book of Great Teachers.  He was named a Fellow of ASME in 2011 and is Managing Editor of Structural Health Monitoring.
Committee Service
Honorary Memberships
Sigma Xi
Tau Beta Pi
Pi Tau Sigma
Alpha Lambda Delta Honors Society
Golden Key National Honors Society
Professional Memberships
Society of Experimental Mechanics
American Society of Mechanical Engineers
American Society of Civil Engineers
American Society of Engineering Education
Additional Information: