Home » Final Projects and Theses » Final Project Examples 2016
Final Project Examples 2016
Posted by Michelle Wijaya on Wednesday, May 25, 2016 in Final Projects and Theses, Final Projects.
7 CDA students completed final projects this year. Here are three examples of final projects completed by CDA 2016 graduates for their practicum organizations. Projects ranged from curriculum development to program evaluation to policy development and beyond.
Developing Social-Emotional Learning Curriculum: A Charter School Case Study
Brittany Johnk, M. Ed 2016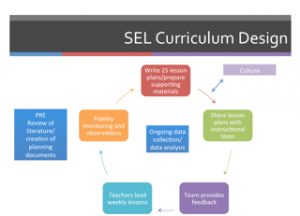 Students, even in early childhood, deal with social and emotional problems that affect their ability to excel in academics and beyond. As a result, schools are facing increased pressure to address these learning barriers with social and emotional education. Social-emotional learning (SEL), through which children develop the knowledge and skills to build relationships, manage emotions, and make decisions, can decrease behavioral issues, reduce emotional distress, and promote pro-social behaviors. This project involved the development and implementation of SEL curriculum at a Nashville charter school. By teaching weekly SEL lessons to elementary students, I sought to examine its effects on conduct issues and positive social behavior. Qualitative and quantitative data on incidents of conduct problems and a tracking system for behavior management were analyzed. The results suggest that the curriculum increased students' ability to manage emotions and resolve peer conflicts and reduced overall behavioral problems. The implementation of the curriculum was a case study for how context-specific lessons can best be integrated into the unique and specific culture of a charter school. The pilot of this curriculum laid the foundation for integrating SEL into the school-wide culture in the future.
KidsCAN: Combining Creativity and Just Sustainabilities
Julie Baxter, M.Ed 2016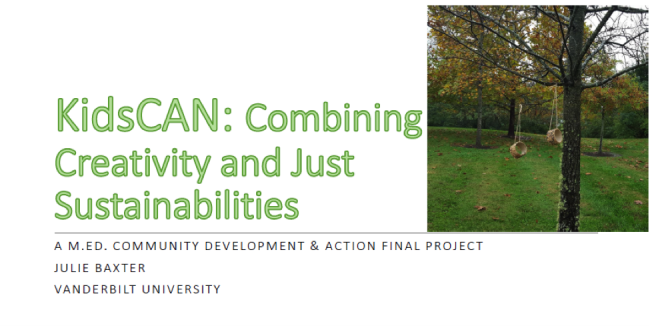 This project worked with the KidsCAN kids focused local sustainability education program for the final project of a Community Development and Action student within the practicum organization, Turnip Green Creative Reuse. A crucial component of the M.Ed. Community
Development and Action (CDA) Program at Vanderbilt University's Peabody College is the practicum experience which gives the students an opportunity to gain valuable experience at the organization and community levels. The final project assessment option is ideally enacted within this practicum space as a practical demonstration of the student's understanding and ability to enact the theories and skills learned within the CDA program (Vanderbilt University, 2014).  KidsCAN combined just sustainabilities, creative reuse, agency building, and community awareness with a place-based, multiple system levels focus over the course of 10 hour long sessions during fall 2015. Areas of the final paper include an overview of the project, including design, implementation, and evaluation, as well as the context within which it was situated, how the project and process connected to the CDA program, and a final reflection on the practicum experience of the CDA student.
Shared Trade: Cultivating a Global Community of Partners
Michelle Wijaya, M.Ed 2016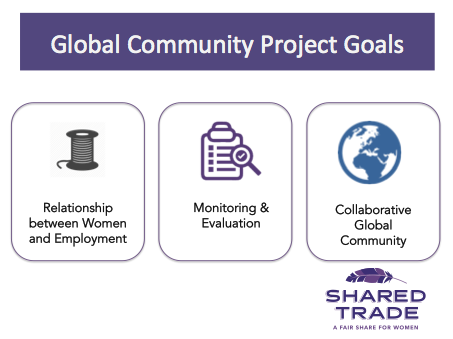 Thistle Farms Global: Shared Trade Marketplace, the global initiative of Thistle Farms, partners with social enterprises around the world who employ women survivors of trafficking, addiction, violence, and extreme poverty, who lack economic opportunity and live on the margins of society. The goal of Shared Trade is to build a global community and a movement for women's economic freedom through a collaborative global community and a commitment to a profit-sharing model. The final project focuses on the research of global partners and the overall global community, serving as a type of a monitoring and evaluation resource for the organization. The project goal is to help assess the effectiveness and progress of the global community as well as to conduct due diligence on partner activities.  The final deliverables, documents, and reports serve as finished products that can be used to share information internally, for grant reporting, or to pass on knowledge to new team members or partners.  In addition, part of the project includes forming an online collaborative space in which partners can communicate with one another as part of building a global community.
Tags: Final Projects
---