Home » Current Students » CDA Student Wins Curb Center Award
CDA Student Wins Curb Center Award
Posted by Hannah Freeman on Monday, November 30, 2020 in Current Students, Final Projects and Theses, Practicum.
Emily Habeck is a professional student pursuing dual professional degrees in CDA and Theological Studies. Habeck, now in her third year, is completing a practicum with the Metro Nashville Arts Commission (Metro Arts) where she is producing ethnographic research on local artists funded by THRIVE. THRIVE is a Metro Arts fund that "connects artists and organizations with the community to create neighborhood investments and transformations." Artists, community organizers, or businesses are eligible for funding to create art projects in Nashville neighborhoods. Emily's research will focus on artistic processes and outcomes related to THRIVE projects during COVID-19, especially those that focus on the intersection between artistic development and community engagement.
Emily comes from an artistic family. Growing up, she was involved with acting, writing, and theatre and went on to earn her B.F.A. in Theatre from Southern Methodist University. After graduating, she moved to Los Angeles to pursue creative writing, film, and theatre. There, Emily realized her true passion was storytelling, and she wanted to understand the connections between art, healing, and community. In her time mentoring fifth graders on creative writing, she noticed the abundance of meaningful opportunities in non-commercial storytelling. Emily then decided to apply to Vanderbilt's dual degree program in Theological Studies and Community Development and Action. In describing her interest in the dual degree program, she said, "Divinity school helped me name the tough issues in the world, and in CDA I've learned what to do about it."
Her ethnographic research is a strong combination of the two programs. Much of Emily's theological education is centered around literature as a tool for resistance and change. "Looking at literature from a position of theology, ethics, and action has transformed the way I view the world and people." As a CDA student, Emily is required to complete a 300-hour practicum to engage with the world in real time. Through Dr. Ashley Carse's Ethnographic Research course, Emily was introduced to Metro Arts where she observed that commercial and community art weren't interacting as they could. As the COVID-19 epidemic changed Nashville's artistic landscape, Emily took that observation and wrote a proposal about the artist's role in times of crisis.  "My work is about celebrating and supporting the most creative among us. Creative people are so often undervalued because people don't understand what goes into making the art or see the arts as frivolous. The arts work in conjunction with other issues. It provides meaning making and beauty during difficult times." says Emily.
Beginning in the fall semester of 2020, Emily began interviewing artists about how their art is impacting the Nashville community. Each interview examines the artist's communities, projects, and perspectives in an environment grappling with a global pandemic, racial uprisings, and contentious political elections. Art mediums ranged from visual, musical, performance and storytelling but all had some interactive community element. Another round of interviews is forthcoming but one valuable insight so far has been the hybrid roles that artists take on in their communities. "Everyone makes art for a different reason. I learned about the fabric and quality of Nashville's artistic community. It's about collaboration, mentorship and support. The artists are really proud to be in Nashville and make an impact here. Their deep love for the community really impacted the work they created. For many artists community was their "why"."
Emily was recently awarded a Vanderbilt Curb Center Scholars award to fund her ethnographic research project. In a faithfully collective reflection, Emily said she was "thankful for how supportive both programs have been in validating and encouraging my specific interests. Even though there isn't a faculty member in CDA that does art/community development, there hasn't been a faculty member who hasn't been supportive of what I've wanted to do. I'm also thankful for our cohort because with everyone's diverse background, I've learned about a wide variety of topics. I see how everything is interconnected in a way I hadn't before." For more information about Emily's project, contact her at emily.s.habeck@vanderbilt.edu. For a full list of THRIVE 2020 projects, visit Metro Arts.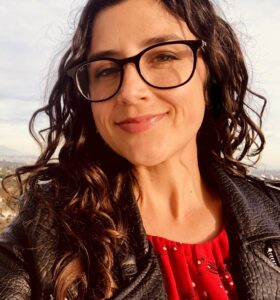 Emily Habeck
---