Our Mission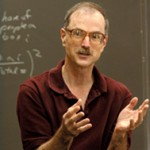 The mission of NCPI is to conduct independent scientific research on the role of performance incentives in education.  We intend to advance the extant body of scholarly and practical knowledge by examining and informing local, state, and national education policy and practice. NCPI's research will result in a better understanding of the design, implementation, effects, and implications of performance incentives in education.
The work of NCPI…
The Center's research addresses the following questions:
Will an opportunity to earn significant annual financial bonuses lead individual classroom teachers to become more effective in raising students' academic achievement?
Do the financial structure and organizational context of performance-based incentive plans influence professional relations between teachers, the culture of schools, or the interactions between teachers and their students?
Can individual teacher performance be measured effectively using existing assessment data?
Will added financial incentives lead teachers to seek greater knowledge of instructional strategies and students' needs and/or change their instructional practices?
Will eligibility for significant financial incentives provoke goal displacement or other unexpected behavior on the part of individual teachers or their schools?
Do the benefits realized from receiving financial bonuses outweigh the costs for individual teachers?
… to advance the body of scholarly and practical knowledge by more fully understanding the design, implementation, effects, and implications of performance incentives in education." Dale Ballou,
Associate Professor of Public Policy and Education at Peabody College