Robert F. Barsky: Guggenheim Fellow, Professor at Vanderbilt University
Barsky's multidisciplinary research combines social justice, human rights, border and refugee studies with literary and artistic insights into the plight of vulnerable migrants. He has published widely, and his books on undocumented migrants, refugees and the milieus of Noam Chomsky and Zellig Harris have been translated into 14 languages. He has also been actively involved in several national and international research projects, supported by the Rockefeller Foundation, the Social Sciences and Humanities Research Council, the governments of Canada, Québec, Belgium, France, and the Dutch Royal Academy.
With support from the Guggenheim Fellowship, the Rockefeller Foundation, and a Canada Research Chair on Law, Narrative and Border Crossing (2019-2020), Barsky is working to bring humanistic insights to the realm of vulnerable persons. He is also building on the work has done for the past 15 years on a border-crossing journal called AmeriQuests: Narrative, Law and Society, which he started as the Canadian Bicentennial Visiting Professor at Yale. He has also started an open-access e-journal called Contours (https://contours.pubpub.org is hosted in collaboration with MIT's Knowledge Futures Goup, on MIT's Media Lab platform, which focuses on artistic representations of border-crossing through a combined exhibition space and academic journal.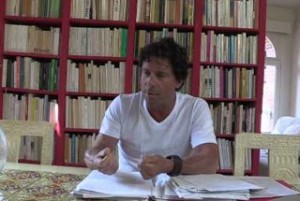 Barsky's work contributes to efforts to dispel false concordances that link terrorism, "anti-American" behavior and economic hardship with persons deemed "foreign". Says Barsky: "Hardening rhetoric, militarizing borders and building walls is counter-productive to every sane domestic and international policy," he says. "We need to combine judicial and policy work with cultural and humanistic efforts, so we can foster a deeper understanding of how central human movement is to a safe and peaceful world."
Barsky is also committed to international education. For the past 15 years, he and his wife Marsha have combined their respective areas of research to create month-long "Maymester" courses in Switzerland, France and Italy. Their students learned about the art, literature and culture of the Alps, and meet with top officials from organizations including the International Red Cross, the World Health Organization, Doctors Without Borders, the World Food Program, and the International Organization for Migration.
https://robertbarsky.academia.edu/