May 5th-June 5th, 2019: EUS 2260 – 05: MIGRATION, INTERNATIONAL HEALTH, SOCIAL JUSTICE, HIKING IN THE SWISS ALPS, FLORENCE and ROME!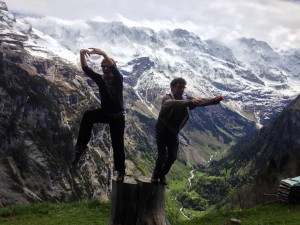 INSTRUCTOR:  Professors Robert Barsky, College of Arts and Sciences; Vanderbilt Law School and Professor Marsha Barsky, Associate Professor of Dance, MTSU
Website: https://my.vanderbilt.edu/robertbarsky/maymester-in-the-alps
Film: https://www.youtube.com/watch?v=MMO19e_eO8
Despite (or perhaps because of) the conservatism of the Swiss and the image of Switzerland as a place of political neutrality, banking and watch-making, the Swiss Alps have sheltered and inspired generations of radical creative and political work, by a host of artists, Romantic poets (Wordsworth, Shelley, Byron), anarchists (Bakunin, Kropotkin and the Jura Federation), and, in Ascona, an incredible group of visiting artists and writers (Mary Wigman, Rudolph Laban, Hermann Hesse, D.H. Lawrence, Isadora Duncan, Carl Jung, Max Weber). One reason for this is that the conservative Switzerland is tightly-guarded, and ruled in accordance with international legal instruments and laws that have made it a safe haven for persecuted persons, and a fertile ground for international organizations charged with upholding human rights. Another reason is the sheer grandeur and impenetrability of the high Alps has led to the establishment of specific kinds of political regimes that have been largely protected by repeated incursions and allowed for a certain protective neutrality.
In this Maymester, Professor Robert Barsky will make this link between radicalism and creativity, safe haven and international law, medicine and international engagement, by exploring institutes, specialists and natural settings in the Swiss and French Alps and then in Florence and Rome, Italy. Beginning in Geneva, the students will be introduced to the international legal and non-governmental organizations that uphold international laws, notably the Red Cross, the World Health Organization, the International Organization for Migration, the United Nations, UNICEF, the International Labor Organization, the World Trade Organization, Doctors Without Borders, the United Nations High Commissioner for Human Rights, the Office of Coordination for Humanitarian Assistance, and the United Nations High Commission for Refugees. Students will meet with high-ranking officials from those organizations, and witness firsthand the kinds of work that is directed from the Geneva offices.
We will then travel to the 'Magical Mountain', Monte Verità, in Ticino, Switzerland. There we will encounter the amazing community of people who lived in an alternative community from 1900-1920. Anarchist physician Raphael Friedeberg, Hermann Hesse,Carl Jung, Erich Maria Remarque, Hugo Ball, Isadora Duncan, Paul Klee, Rudolf Steiner, Mary Wigman, Rudolf von Laban, Frieda and Else von Richthofen, Otto Gross, Erich Mühsam, Karl Wilhelm Diefenbach, Walter Segal, Max Weber, and Gustav Nagel.
From there we'll follow in the footsteps of Percy Shelley and Byron up to Murren, to hike up to the sublime heights that have inspired so many artists, writers, painters and philosophers including Dorothy and William Wordsworth, Lord Byron, Mary and Percy Shelley, John Turner, James Fenimore Cooper, Henry Wadsworth Longfellow, Friedrich Nietzche and others. From there we head to Geneva, to study Dadaism, and then a stop in Florence, at the Migration Policy Center, and the European University Institute.
We will complete our work in Rome by returning to refugee and migration studies, and we'll be introduced to the Joel Nafuma Refugee Center, the International Organization for Migration Rome office, the Migration, Asylum and Social Integration Center, and other migration organizations in the country that is at the flashpoint of the current crises.
ELIGIBILITY: NO PREREQUISITES. The program is open to all students in good academic standing, and with consent of instructor AXLE: INT
FEES: Cost per student is TBD.  Fees include tuition, accommodation, most breakfasts, and public transportation between sites, some cultural activities and HTH health insurance.  It does not include regular meals, incidental expenses, and airfare (BNA-Geneva), for which a common itinerary will be developed.
ITINERARY: The instructor will develop a common itinerary for students in this course. Students are responsible for their own airfare.
CREDITS: 3 HOURS. This course is listed as INTERNATIONAL credit in AXLE.
Course Material:
Law of Refugee Status, by James HATHAWAY, ISBN: 9781107688421
Byron in Geneva: That Summer of 1816, David Ellis
Some interesting websites:
https://www.poets.org/poetsorg/text/brief-guide-romanticism
http://www.artyfactory.com/art_appreciation/art_movements/dadaism.htm
Check out all of the UN websites, they have a wealth of information:
https://www.icrc.org/en
http://www.unhcr.org/en-us
http://www.who.int/en
https://www.iom.int
https://www.un.int
http://www.doctorswithoutborders.org/about-us/faq?
Additional reading cases and the normative texts are available at: www.refugeelawreader.org as well ashttp://library.law.yale.edu/research-guides-10. Further cases and information are to be found at www.refugeecaselaw.org and athttp://www.columbia.edu/itc/hs/pubhealth/modules/forcedMigration/definitions.html
Assignments:
All students will keep a journal, into which they will enter ideas, hypotheses, thoughts, poems… with daily contributions, to ensure that the material remains fresh. Ideas from those journals will be presented by each student, in each of the 4 presentation days.
After familiarizing yourself with the 1951 Convention, what would be your proposed additions to the Convention's definition of refugee status?
Read D.H. Lawrence's "The Sun", and provide an alternative ending, based upon your knowledge of Monte Verità
Create a dada work, in an appropriately multimedia form
Discuss the most urgent issue regarding food distribution to areas in need, based on your discussions at WFP and IFAD.
Itinerary 2018, May 5th-June 5th:
T.A.: Schaller, Katherine M <katherine.m.schaller@vanderbilt.edu>
kelsey.abrahamsen@vanderbilt.edu, grace.adcox@vanderbilt.edu, elizabeth.s.akers@vanderbilt.edu, olivia.arnold@vanderbilt.edu, emily.a.bean@vanderbilt.edu, eliza.c.bienstock@vanderbilt.edu, valeria.chavez@vanderbilt.edu, lilah.a.connell@vanderbilt.edu, xinyi.deng@vanderbilt.edu, kelsey.e.donohue@vanderbilt.edu, nia.m.dorsey@vanderbilt.edu, jamie.a.dyvig@vanderbilt.edu, hannon.l.eberts@vanderbilt.edu, julia.e.gallagher@vanderbilt.edu, emma.claire.c.geitner@vanderbilt.edu, john.t.kerr@vanderbilt.edu, minji.kim.1@vanderbilt.edu, rachel.l.kryska@vanderbilt.edu, mariefaith.lane@vanderbilt.edu, currie.larrimer@vanderbilt.edu, christopher.c.marcus@vanderbilt.edu, amanda.p.miller@vanderbilt.edu, sean.m.moriarty@vanderbilt.edu, simon.m.obi@vanderbilt.edu, alessandra.c.sanchez-medina@vanderbilt.edu, monica.e.shaia@vanderbilt.edu, breinne.m.thorne@vanderbilt.edu, katherine.m.walsworth@vanderbilt.edu, rachel.wei@vanderbilt.edu, ruisi.zhong@vanderbilt.edu
DATES: Depart from US on May 4th (your home – GVA)! 
May 5-11, Geneva; May 11-15, Monte Verità; May 16-20, Mürren; May 20-23, Grinderwald; May 23-27, Zurich; May 27-June 5th, Rome and Vatican City
May 5-12, Geneva, Hôtel Cornavin, Gare de Cornavin, 1201 Genève, T: ++41 22 716 12 12 Fax: +41 22 716 12 00, cornavin@fhotels.ch; http://cornavin@fhotels.ch.
Sunday May 5th ARRIVAL
Everyone should arrive in the hotel on Sunday; your flight likely touches down in the morning, take the train from the airport to Geneva (first stop), exit out the front entrance of the station, turn right, and you'll see our Hotel Cornavin. You can leave your bags with the concierge until your room is ready. I'd suggest going to sleep at 9PM, to be ready for Monday's meetings. Kate will assist with check-in.
Monday May 6th
10AM: Doctors Without Borders, Candice.GEINOZ@geneva.msf.org Candice GEINOZ,HU Yuan Qiong, Senior Legal & Policy Advisor , Médecins Sans Frontières | Access Campaign, 78 Rue de Lausanne, CH-1211 Geneve 21, Switzerland, T: +41- 022 849 8481 | M: +41- 076 228 9178 | Skype: huyuanqiong, Email: yuanqiong.hu@geneva.msf.org; Web: www.msfaccess.org | www.msf.org. Candice.GEINOZ@geneva.msf.org, MSF Access Campaign will do the presentation.
2:00PM-4:00, UNHCR, Don Canete Martin for Ms. Angelika Montillot, Coordinator, UNHCR Visitors' Centre, Division of External Relations, UNHCR, 94, rue de Montbrillant, 1211 Genève, Suisse, Office: +41 22 739 8606 or 8812, Fax: +41 22 739 7316, E-mail: visitors@unhcr.org, www.unhcr.org, https://www.facebook.com/UNHCR
5PM meet on the top floor of Hotel Cornavin, for discussion, followed by a Red Cross and Henri Dunant themed tour of Geneva, beginning at 5:30, of Geneva. Sigi Muller, Genève Escapade. Sigi Muller <sigi.muller@geneve-escapade.ch>;  Genève-Escapade <info@geneve-escapade.ch>
7PM: Fondue and Raclette supper with the Dunant Tour Guide.
Tuesday May 7th
9-5: United Nations. Tour of the Palais des Nations, a member of our team (or more) has been assigned to your group especially. Please arrive at least 20 minutes before your scheduled tour. Late arrival may result in a shorter tour or in the cancellation of the tour. The Visitors' Entrance is at the "Pregny Gate", 14 avenue de la Paix,
1211 Geneva-10 (opposite the Red Cross building). Bus lines 8, 28, F, V and Z stop at "Appia"; Bus lines 5 and 11 stop at "Nations"; Tramway 15 Terminus at "Nations". The person in charge of the group will get a badge from Security. Only one person per group needs a badge and needs to carry a valid ID card or passport. All visitors, whether they are part of a group or walk-in visitors, need to carry a valid ID card or passport, which will be checked by the Security Service. The person in charge of a group will receive a visitors' badge. For information material about the UN and information for teachers, please go to: www.onug.ch/visits orwww.un.org/en/aboutun/index.shtml
4:30-6:00PM: The Graduate Institute of Geneva: Michal Sela, Deputy Head, Student Services | Admission Office, michal.sela@graduateinstitute.ch.
Wednesday May 8th
9AM-5PM World Health Organization, Avenue Appia 20, 1211 Genève 27, Switzerland Phone: +41 22 791 21 11 Venue: library meeting room
09.00 Arrival WHO reception
09.15 – 10.00 Introduction WHO – Christian Lindmeier, WHO Spokesperson
10.00 – 10.45 Mental Health – Edith van't Hof
10.45 – 11.15 Break
11.15 – 12.00 Emergencies – Nikola Sklenovska
12.15 – 14.00 Lunch
14.00 – 14.45 Polio Eradication – Darcy Levison
14.45 – 15.15 Break
15.15 – 16.30 Immunization HPV – Paul Bloem
10AM Ms. Lucinda O'Hanlon  Adviser on Women's Rights and Gender Section, Office of the United Nations High Commissioner for Human Rights (OHCHR), Palais Wilson, Room RS-181, 52 rue des Pâquis, CH-1201 Geneva, Switzerland.
Thursday May 9th
9:30-noon, International Organization for Migration
The International Organization for Migration is an intergovernmental organization that provides services and advice concerning migration to governments and migrants, including internally displaced persons, refugees, and migrant workers.
Headquarters: Le Grand-Saconnex, Switzerland
3PM, Inter-Parliamentary Union
Ms. Kareen Jabre, Director of the Division of Programmes and Gender Partnership Programme Manager
Mr. Rogier Huizenga, Human Rights Programme Manager
Ms. Aleksandra Blagojevic, International Development Programme Manager
Ms. Catherine Todeschini-Blondelle, Communications Assistant
Chemin du Pommier 5 
Case Postale 330 
1218 Le Grand-Saconnex 
Geneva – Switzerland 
www.ipu.org
Friday, May 10th
10AM Red Cross: Bea Vanhove, Odile de Lastelle, Cindy Morel, Sophie Voirol. The program will contain the viewing of an introduction film and two presentation-discussions, respectively about the ICRC activities in the field and International humanitarian law.  Visitors' Service, International Committee of the Red Cross (ICRC) , 19, avenue de la Paix, 1202 Geneva, Switzerland, Email: visit@icrc.org. T +41 22 730 21 49.
2:30-4PM:  World Trade Organization
Saturday, May 11th, Geneva and Monte Verità
11:30AM-2PM: Bodmer Institute Mélanie Exquis, Responsable de la médiation culturelle, Fondation Martin Bodmer, + 41 (0) 22 707 44 36
3:30 PM Travel to Ascona/Licarno
Saturday, May 11-Wednesday, May 15th, Monte Verità
Monte Verità: "The place where our minds can reach up to the heavens…"
In the nineteenth century and at the beginning of the twentieth, the Ticino, republic and canton since 1803, became a gateway to the south and favourite destination of a group of unconventional loners who found in the region, with its southern atmosphere, fertile ground in which to sow the seeds of the utopia they were unable to cultivate in the north. The Ticino came to represent the antithesis of the urbanised, industrialized north, a sanctuary for all kinds if idealist. From 1900 onwards Mount Monescia above Ascona became a pole of attraction for those seeking an ''alternative" life. These reformers who sought a third way between the capitalist and communist blocks, eventually found a home in the region of the north Italian lakes.
The founders came from all directions : Henry Oedenkoven from Antwerp, the pianist Ida Hofmann from Montenegro, the artist Gusto and the ex-officer Karl Gräser from Transylvania. United by a common ideal they settled on the ''Mount of Truth"as they renamed Monte Monescia.
Draped in loose flowing garnments and with long hair they worked in the gardens and fields, built spartan timber cabins and found relaxation in dancing and naked bathing, exposing their bodies to light, air, sun and water. Their diet excluded all animal foods and was based entirely on plants, vegetables and fruit. They workshipped nature, preaching its purity and interpreting it symbolically as the ultimate work of art: ''Parsifal's meadow", ''The rock of Valkyrie" and the ''Harrassprung" were symbolic names which with time were adopted even by the local population of Ascona who had initially regarded the community with suspicion.
Their social organisation based on the co-operative system and through which they strove to achieve the emancipation of women, self-criticism, new ways of cultivating mind and spirit and the unity of body and soul , can at the best be described as a Christian-communist community. The intensity of the single ideals fused in this community was such that word of it soon spread across the whole of Europe and overseas, whilst gradually over the years the community itself became a sanatorium frequented by theosophists, reformers, anarchists, communists, socialdemocrats, psyco-analysts, followed by literary personalities, writers, poets, artists and finally emigrants of both world wars: Raphael Friedeberg, Prince Peter Kropotkin, Erich Mühsam who declared Ascona ''the Republic of the Homeless", Otto Gross who planned a ''School for the lib-eration of humanity", August Bebel, Karl Kautsky, Otto Braun, even perhaps Lenin and Trotzki, Hermann Hesse, Franziska Gräfin zu Reventlow, Else Lasker-Schüler, D.H Lawrence, Rudolf von Laban, Mary Wigman, Isadora Duncan, Hugo Ball, Hans Arp, Hans Richter, Marianne von Werefkin, Alexej von Jawlensky, Arthur Segal, El Lissitzky and many others.
After the departure of the founder for Brazil in 1920 there followed a brief bohemian period at the Monte Verità which lasted until the complex was purchased as a residence by the Baron von der Heydt, banker to the ex-Kaiser Willhelm II and one of the most important collectors of contemporary and non European art. The bohemian life continued in the village and in the Locarnese valleys from then on.
The Mount, now used as a Hotel and park, still maintains its almost magic power of attraction. Along with the proven magnetic anomalies of geological formations underlying Ascona, it is as if the mount preserves, hidden away out of sight, the sum of all the successful and unsuccessful attempts to breach the gap between the ''I" and ''we", and the striving towards an ideal creative society, thus making the Monte Verità a special scenic and climatic micro-paradise.
The Monte Verità is also however a well preserved testimony for the history of architecture. From Adam's hut to the Bauhaus. The ideology of the first settlers demanded spartan chalet-like timber dwellings with plenty of light and air and few comforts. Shortly after 1900 the following buildings began to spring up: Casa Selma (now museum), […]1, Casa Andrea with its geometrical façade, the sunniest of the buildings (now converted), Casa Elena and the Casa del Tè – Tea House (now demolished) and the Casa dei Russi (hideout for Russian students after the 1905 revolution and now undergoing renovation). The Casa Centrale was built for the community and allowed for maximum natural light. Ying-Yang symbols were worked into windows and balconies. (In 1948 this building was demolished to make way for a restaurant and only the curving flight of steps remains).
Henry Oedenkoven built Casa Anatta as living quarters and reception rooms in the theosophist style with rounded corners everywhere, double timber walls, sliding doors, domed ceilings and huge windows with views of the landscape as supreme works of art, a large flat roof and sun-terrace.
In the mains rooms of this building Mary Wingman danced, Bebel, Kautsky and Martin Buber discussed, Ida Hofmann played Wagner and the community held its reunions. In 1926 the Baron von der Heydt converted Casa Anatta into a private residence and adorned it with his collection of African, Indian and Chinese art, now housed at Rietberg Museum, and a collection of Swiss carnival masks which is now in Washington. After the death of the Baron in 1964 the Casa Anatta, described by the architecture theorist Siegfried Giedion in 1929 as a perfect example of ''liberated living", fell into disuse and dilapidation. In 1979 it was re-activated to house the Monte Verità exhibition and has been the History Museum of the Monte Verità since 1981.(Open to the public from April to October). In 1909 the Turinese architect Anselmo Secondo built the Villa Semiramis as a guest house and hotel. The Villa, clinging to the mountain side, presents many architectural characteristics of the Piedmont '' Jugendstil" of which the triangular shutters are the most striking example. In 1970 work was carried out to remodernize the Villa, true to the original style, under the direction of the Ticinese architect Livio Vacchini. The arrival of the Baron on the Mount marked the advent of modern architecture in the Ticino.The original contract for a hotel in the characteristically rational and functional Bauhaus style went to Mies van der Rohe and was executed by Emil Fahrenkamp, builder of the Shell Building in Berlin and later designer of the Rhein Steel Works. Like Casa Anatta, the Hotel is built against the rock face. The design both of the exterior and of the rooms is simple and clear-cut and the suites are furnished in the Bauhaus tradition. The reception rooms and the corridors are light and airy and the metalwork studied down to the smallest detail.Thanks to the construction of the Hotel, Bauhaus masters such as Gropius, Albers, Bayer, Breuer, Feiniger, Schlemmer, Schawinksy and Moholy-Nagy visited Ascona and the Monte Verità and there discovered what Ise Gropius was to put into words in 1978 ''A place where our minds can reach up to the heavens…".
May 15th-May 18th: Andermatt Nestled within the Urseren Valley, Andermatt is surrounded by an untouched alpine countryside like no other Swiss mountain village. The expansive high-mountain valley at the foot of the Gotthard Massif with its historic alpine passes delights visitors with ample sun and excellent water and air quality. Water plays an especially central role here – the Rhine, Reuss, Ticino and Rhone, four of Europe's major rivers, originate in the Gotthard region, where permanent ice and glaciers cling to the mountain peaks.
May 18th-May 22nd, Zurich. The Central Plaza Hotel, Central 1, CH-8001 Zürich; Direktwahl: +41 44 256 56 70 Tel.: +41 44 256 56 56; Fax.:+41 44 256 56 57
May 19th, 4PM.  Tour of the Jung Institute. Director of Studies, Mr Cramm, will give you and your group a short tour through our Institute on May 24th. Ronja Hübscher
Empfang / Front Office , C.G. Jung-Institut Zürich, Küsnacht , Hornweg 28, CH-8700 Küsnacht, Tel. +41 44 914 1040, Fax +41 44 914 1050
ziltener@junginstitut.ch /www.junginstitut.ch

May 20th, 10AM. Tour of Cabaret Voltaire, and visits to sites associated with Dadaism all around Zurich, with Adrian Notz.
May 22nd-May 25th, Murren Hotel Alpenruh. 3825, Mürren T +41 33  856 88 00  M  +41 79 679 18 59, E-Mail: alpenruh@schilthorn.ch, Internet: http://www.alpenruh-muerren.ch; Your target: http://www.schilthorn.ch
Sunday, May 25th-Wednesday, May 28th, Swiss Quality Hotel Belvedere, Familie Urs-B. Hauser · Dorfstrasse 53 · CH- 3818 Grindelwald, Tel +41 33 888 99 99 · Fax +41 33 888 99 90. www.belvedere-grindelwald.ch
May 28th-May 31st: Florence!
Friday May 30th-Wednesday June 5th, Rome
Thursday, May 30th: Travel from Florence to Rome
SMOOTH HOTEL Via Palestro 13 
Friday May 31st
9:30 – 10:00 Introduction Welcoming remarks & tour de table
Introduction to IOM. Paola Alvarez, Project Development Officer
10:00 – 10:45 Session 1: What do we know about migration; how we perceive and represent migrants?
*   Communication and data on migration, Flavio Di Giacomo, Spokesperson – PR/Media Focal Point
10:45 – 11:00 Break
11:00 – 13:00 Session 2: Assisting vulnerable migrants
2.1 Health and migration Elena Imberti, Project Assistant, Migration Health
2.2 Migrants' integration
Francesco Vigneri, Project Assistant, Admin4All
Nicoletta Boi, Communication Assistant, TandEM
2.3 Integration and Labour Exploitation risks
Giovanni Abbate
13:00 – 14:00 Lunch at the IOM
14:00 – 16:00 Session 3: Migration and Development
3.1 Migration and Development
TBD, Project Assistant
Session 4: Assisting vulnerable migrants
3.2 Unaccompanied children
Marta Damiano, Project Assistant, Family Tracing/Vulnerable Migrants
16:00 – 16:15
Break
16.15 – 16:45 Session 5: Assisting vulnerable migrants 8cont)
4.1 Trafficking in human beings
Veronica Lentini, Monitoring Expert, ADITUS
Saturday the 1st of June from 2 p.m. to 4 p.m: Keats Shelley House: Two groups made of a total of 30 university students and 2 leaders. Situated at the right foot of the Spanish Steps, just a few steps away from Spagna metro station, theKeats-Shelley House is a museum dedicated to the English Romantic poets, who were spellbound by the Eternal City. 26 Piazza di Spagna is most famous for being the final dwelling place of John Keats, who died there.
Sunday June 1st DAY OFF!
Monday June 2nd
2-5PM: World Food Program Tina Yuting Wu: 10:00AM-5PM: Legal Office. World Food Programme. Email:  tina.wu@wfp.org
Foodsat:  1301 3929. Tel:  +39 06 6513 3929; Mobile:  +39 347 265 7593; Fax:  +39 06 6513 2819
3PM Tickets for Papal Visit, Via dell'Umiltà, 30 on the Tuesday afternoon before the Audience between 3-6 pm. Via Dell'Umiltà, 30, is very near to the Trevi Fountain. From the Trevi Fountain, facing it, look to the left and you will see the store "Giorgios". Take the street to the left of the store, called Via Delle Muratte. Then, take the first left (after "Blue Ice") onto Via Delle Vergini (the street sign is difficult to see). Follow Via Delle Vergini until you see the street Via Dell'Umiltà. Take a left onto Via Dell'Umiltà. On your right you will shortly see a large door with an arch over it, # 30 (not 30a or 30b). There is a plaque that says "The Pontifical North American College". That is our office! To receive your tickets, it is necessary to present either an American passport or a driver's license, and a copy of this email when you come to pick up your tickets.
Thursday, May 31st
10:45 AM-noon: US Embassy
The Deputy Chief of Mission, Embassy of the United States of America to the Holy See, Via Sallustiana, 49. Jelena Lazovic, Executive Secretary, LazovicJ@state.gov
2:30-5:00 pm: IFAD Headquarters, Oval Room
2:30 pm – 2:35 pm

Arrival of students at IFAD HQ – Security check – group photo

Students gathering in the foyer for group photo

2:35 pm –3:00 pm
Welcome remarks and presentation on IFAD's activities

Presentation followed by Q&A session

3:00 pm – 3:20 pm
Governance

 

Presentation followed by Q&A session

3:20 pm  – 3:30 pm
Break

10-minute break

3:30 pm – 4:00 pm

 

IFAD's activities in Africa or Asia with focus on agricultural development
 

Presentation followed by Q&A session

4:00 pm – 4:30 pm
Climate change and the importance of rural development
 

 

 

Presentation followed by Q&A session

4:30 pm – 5:00 pm
Gender equality and women's empowerment: challenges and constraints
Presentation followed by Q&A session
5:00 pm
End of session

Friday, May 31st
9AM-5PM, IOM Coordinating Office for the MediterraneanS. Paola ALVAREZ, PhD, Project Development Officer for the Mediterranean International Organization for Migration; Coordination Office for the Mediterranean; Via L.G.Faravelli, snc – 00195 Rome – Italy (UTC +2); T.   +39 06 44186251; M. +39 335 1619081
9:30 – 10:00
Introduction
Welcoming remarks & tour de table
Introduction to IOM
Paola Alvarez, Project Development Officer
10:00 – 10:45
Session 1: What do we know about migration; how we perceive and represent migrants?
*   Communication and data on migration
Flavio Di Giacomo, Spokesperson – PR/Media Focal Point
10:45 – 11:00
Break
11:00 – 13:00
Session 2: Assisting vulnerable migrants
2.1 Health and migration
Elena Imberti, Project Assistant, Migration Health
2.2 Migrants' integration
Francesco Vigneri, Project Assistant, Admin4All
Nicoletta Boi, Communication Assistant, TandEM
2.3 Integration and Labour Exploitation risks
Giovanni Abbate
13:00 – 14:00
Lunch at the IOM
14:00 – 16:00
Session 3: Migration and Development
3.1 Migration and Development
TBD, Project Assistant
Session 4: Assisting vulnerable migrants
3.2 Unaccompanied children
Marta Damiano, Project Assistant, Family Tracing/Vulnerable Migrants
16:00 – 16:15
Break
16.15 – 16:45
Session 5: Assisting vulnerable migrants 8cont)
4.1 Trafficking in human beings
Veronica Lentini, Monitoring Expert, ADITUS
Saturday, June 1st: Keats Shelley House
Sunday, June 2nd: DAY OFF!
Monday, June 3rd
11:00AM 
Mary Shovlain
Public Diplomacy Specialist
United States Embassy to the Holy See
Office: +39 06.4674.3444
Email:   ShovlainML@state.gov
3PM: FAO,  Viale delle Terme di Caracalla: 06 57051
15.00 hours. Please note that the visit normally consist in a general tour of one hour/one hour and half through the most important meeting rooms of FAO with a general explanation on FAO's mandate and work. Could you please confirm your interest in this programme?
All participants will have to come with a valid identity card/passport to access the building. Katia Meloni
Tuesday, June 4th
Wednesday, June 5th: Departure! Rome-Home