About Me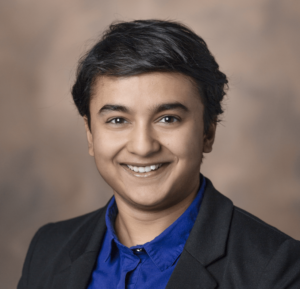 Srijata Chakravorti is currently pursuing a PhD in Electrical Engineering at the Medical Image Processing Lab, advised by Dr Benoit Dawant.
Her research focus is on Statistical Modeling for Image-Guided Surgery, Medical Image Segmentation and White Matter Tractography for Deep Brain Stimulation.
She received her B.E. in Electrical Engineering from Jadavpur University in 2015.
Download Resume
Google Scholar | ResearchGate | Linkedin
---
Selected Publications
Journal
Wu, C.*, Jermakowicz, W. J. *, Chakravorti, S. *, Cajigas, I., Sharan, A. D., Jagid, J.R., . . . D'Haese, P.-F. (2019). Effects of surgical targeting in laser interstitial thermal therapy for mesial temporal lobe epilepsy : A multicenter study of 234 patients. Epilepsia, 60(6), 1171–1183. https://doi.org/10.1111/epi.15565
(* indicates co-first authors)
Chakravorti, S.*, Noble, J. H.*, Gifford, R. H., Dawant, B. M., O'Connell, B. P., Wang, J., & Labadie, R. F. (2019). Further Evidence of the Relationship Between Cochlear Implant Electrode Positioning and Hearing Outcomes. Otology & Neurotology, 40(5), 617–624. https://doi.org/10.1097/MAO.0000000000002204
(* indicates co-first authors)
Chakravorti, S., Bussey, B. J., Zhao, Y., Dawant, B. M., Labadie, R. F., & Noble, J.H. (2017). Cochlear implant phantom for evaluating computed tomography acquisition parameters. Journal of Medical Imaging, 4(04), https://doi.org/10.1111/epi.15565
Zhao, Y., Chakravorti, S., Dawant, B.M., & Noble, J.H. (2019). Automatic graph-based method for localization of cochlear implant electrode arrays in clinical CT with sub-voxel accuracy. Medical Image Analysis, 52, 1-12. https://doi.org/10.1016/j.media.2018.11.005 
Petersen, K.J., Reid, J.A., Chakravorti, S., Juttukonda, M.R., Franco, G., Trujillo, P., Stark, A.J., Dawant, B.M., Donahue, M.J., Claassen, D.O. (2018). Structural and functional connectivity of the nondecussating dentato-rubro-thalamic tract. NeuroImage, 176, 364-371. https://doi.org/10.1016/j.neuroimage.2018.04.074
Hunter, J. B., O'Connell, B. P., Wang, J., Chakravorti, S., Makowiec, K., Carlson, M. L., … Wanna, G. B. (2016). Correlation of Superior Canal Dehiscence Surface Area With Vestibular Evoked Myogenic Potentials, Audiometric Thresholds, and Dizziness Handicap. Otology & neurotology : official publication of the American Otological Society, American Neurotology Society [and] European Academy of Otology and Neurotology, 37(8), 1104–1110. https://doi.org/10.1097/MAO.0000000000001126
Conferences
Chakravorti, S., Jermakowicz, W.J., Wu, C., Li, R., Wirz, R., Dawant, B.M., D'Haese, P.-F. (2019). Evaluation of nonrigid registration around the hippocampus for the construction of statistical maps in a multicenter dataset of epilepsy laser ablation patients. Proc. SPIE 10951, Medical Imaging 2019: Image-Guided Procedures, Robotic Interventions, and Modeling, 109511J (8 March 2019); https://doi.org/10.1117/12.2512587
Chakravorti, S., Morgan, V.L., Trujillo, P., Wirz, R., Dawant, B.M. (2018). A structural connectivity approach to validate a model-based technique for the segmentation of the pulvinar complex. Proc. SPIE 10578, Medical Imaging 2018: Biomedical Applications in Molecular, Structural, and Functional Imaging, 105780T (12 March 2018); https://doi.org/10.1117/12.2293685
Chakravorti, S., Li, R., Rodriguez, W., Shults, R., Sharan, A., Englot, D.J., Konrad, P.E., D'Haese, P.-F., Dawant, B.M. (2018). Validation of an automatic algorithm to identify NeuroPace depth leads in CT images. Proc. SPIE 10951, Medical Imaging 2019: Image-Guided Procedures, Robotic Interventions, and Modeling, 109512D (8 March 2019); https://doi.org/10.1117/12.2512580