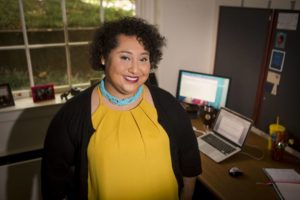 Dr. Stephany Cuevas, who was born and raised in Los Angeles, California, is an interdisciplinary education scholar whose research focuses on factors that shape the post-secondary trajectories of first-generation Latinx college students. Central to her research is the notion that Latinx students do not experience education in isolation, as sole compartmentalized, individual students. She considers it imperative to consider the significant and central role families have in shaping Latinx students' educational experiences. As a Latina scholar, daughter of Mexican immigrants, Dr. Cuevas' research and teaching seeks to empower the communities she works with by centering and highlighting their voices and experiences.
Currently, Dr. Cuevas is an Academic Pathways Postdoctoral Fellow at the Peabody College of Education and Human Development at Vanderbilt University. Her current work explores how family engagement shifts and changes as first-generation students advance in and complete their post-secondary trajectories.Prior to graduate school, Dr. Cuevas was actively involved in K-12 outreach community programming in California. Working with underrepresented populations, she developed programming to educate, assist, support, and encourage students and their families as they sought access to higher education.
Dr. Cuevas holds a Bachelor of Arts in Ethnic Studies and Sociology from the University of California, Berkeley and a Master of Education and Doctor of Education from the Harvard Graduate School of Education. She is also a former editor for the Harvard Educational Review.