VDS Feature: International Interfaith Delegation to El Salvador Part 1
This March four students took part in the first ever International Interfaith Delegation to El Salvador in support of LGBTQI activist and people of faith, and attended the inaugural Festival de Fe in San Salvador (this trip/event coincided with the annual recognition of the martyrdom of Monsignor Oscar Romero.  The work happening in El Salvador is groundbreaking, as is the development of this partnership, and we are part of it.
Vanderbilt Divinity School was one of two academic institutions (the other was PSR through the Center for Gay and Lesbian Studies) to formally support representatives to the delegation as well as the work happening on the ground (through the letters sent in support of LGBTQI activists). We have initiated relationships both with multiple organizations on the ground in El Salvador, and with PSR (and other US organizations) specifically to build these partnerships.
This month, we share reflections from the students who were part of the delegation.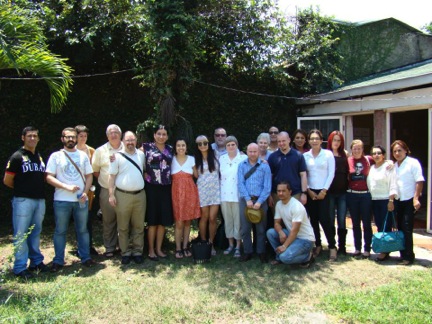 The best of plans do not always yield the best of results. And the best of results—the empowering, dynamic, and humbling kind that emerged from the VDS trip to El Salvador—sometimes come from no plan at all. When the four-person Vanderbilt Divinity School contingent of Prisca Dorcas Mojica Rodriguez, Alba Onofrio, Luis Menendez, and Danny Folds arrived at the airport of San Salvador this past March, we did not have much of a plan. All we knew was that the Center for Gay and Lesbian Studies at the Pacific School of Religion had alerted us to an invitation from El Salvador to take part in work that is central to each of our commitments as persons, theologians, and activists. We left a week of school, work, parenting, and partnering to join a diverse coalition of activists committed to furthering LGBTQ rights in El Salvador by bringing everyone to the table.
Transgender persons in El Salvador are marginalized from society in every way: denied employment opportunities, health care, identification documents, and physical protection. Most grievously, they are murdered with impunity. Groups of activists have been fighting these conditions from within the transgender, allied, religious, secular, Salvadoran, and foreign communities. As is the nature of social justice work, what used to be one demographic group's "issue" quickly became a shared concern amongst many stakeholders. Broadly speaking, the stakeholders with the greatest ties to the issue are the transgender community, law enforcement, elected officials, and the Church. The Church carries incredible weight in El Salvador—both the Catholic and Evangelical churches, plus a number of more recently arrived denominations—so faith leaders supporting transgender rights in religious language is crucial. Archbishop Oscar Romero, the country's iconic civil rights ecclesial reformer, was killed while offering Mass in 1980, and his death for loudly voicing the Church's duty to protect the vulnerable sets a powerful precedent for present-day churches to protect transgender persons with equal commitment.
One of the many brave groups committed to bringing about change in this arena is ALDES, Legal Assistance for Sexual Diversity in El Salvador, and we have them to thank for the country's pinnacle event of visibility for transgender rights, both this year and the previous. ALDES organized "Festival de Fe," an international and ecumenical conference to end impunity of hate crimes against LGBTI persons, the first iteration taking place last year and the second, this past March. Our VDS crew came to El Salvador both to participate in the conference and to initiate conversations with the aforementioned stakeholders, including LGBTI groups, church leaders, the police academy, and healthcare workers, to build momentum and awareness of the coming conference and what it stands for. As problematic as privilege is, we were told by the Salvadoran community in no uncertain terms that American voices are listened to and American presence is noted, so our visible support for LGBTI rights in El Salvador made our coming worthwhile, even before the myriad relationships and plans formed by the week of conversations.
Each of us came to the conference expecting something different, and each took away our own understanding of how we can continue the international, ecumenical call for an end to the degradation of LGBTI persons in El Salvador. I have to admit that my expectations were more cynical than others', though, because of my wariness of short-term trips and American insertion into foreign affairs. That wariness remains, but it has been tempered by the tangible proof of attention from authority figures to the rights of those without sufficient political sway to be heard on their own merit. It has also been tempered by the fellowship I experienced with people living in an environment that they know I have never lived in, but who nonetheless see us as allies and comrades in the fight for equality for all. I in no way endorse a system that heeds ostensibly moneyed nations over its own people, but I cannot ignore the reality when the alternative is possibly to improve someone's standard of living. The bare bones of the conference's history, attendants, and goals are intended to provide a context in which to read the experiences of VDS members who participated in a transformative week and continue to work for the same latter goal in the aftermath of what we learned there.
Andrea Folds, MTS'14