Writing resources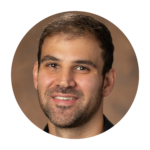 Michael Sekuras Muñoz is a PhD candidate in Hebrew Bible at Vanderbilt's Graduate Department of Religion. With several years of experience as Writing Coach at VDS, and having spent the last ten years in graduate religious education, he is eager to help you with your exegesis, theology, philosophy, history papers and more.
---
Hours
T/Th 11:00 AM- 2:30 PM; W 11:30 AM-2:30 PM (Central Time)
Wednesdays, 1-2pm: Drop in Q/A: Come with any writing or research questions to ask the Writing Tutor and a Librarian. No appointment necessary.
Inclusive Language guidelines for writing: https://divinity.vanderbilt.edu/portal/Inclusive%20Language%201999%20short.pdf
Chicago Manual of Style Online: https://catalog.library.vanderbilt.edu/permalink/01VAN_INST/6ll2l/alma991043262266203276
---
Fall Writing Seminars
VDS Writing Tutor Michael Sekuras Muñoz and Divinity Librarian Keegan Osinski have scheduled this semester's Fall Writing Workshop webinars. The series is open to all VDS students and geared toward preparing you for research and writing for coursework. Michael and Keegan are especially hoping to serve first-year students who may not be as familiar with the writing and research resources here at VDS.
Exegesis Friday | October 9, 12pm
Michael and Keegan will walk you through how to exegete a biblical passage as well as talk about different methods for close reading of texts. Especially helpful as you write your Hebrew Bible paper!
https://vanderbilt.zoom.us/j/94424671036
Note: These seminars will not be recorded, however the workshop resources we use can be found here: https://researchguides.library.vanderbilt.edu/divinityworkshops