Writing resources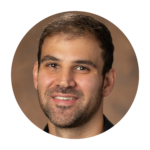 Michael Sekuras Muñoz is a PhD candidate in Hebrew Bible at Vanderbilt's Graduate Department of Religion. With several years of experience as Writing Coach at VDS, and having spent the last ten years in graduate religious education, he is eager to help you with your exegesis, theology, philosophy, history papers and more.
---
Hours
T/Th 12:00 noon- 2:30 PM; W 11:00 AM – 2 PM (Central Time). Please schedule an appointment to chat with Michael during this time, using the links above.
Tuesdays, 12-1pm: Drop in Q/A. Come to Michael's Zoom room with any writing or research questions to ask the Writing Tutor and a Librarian. No appointment necessary during this drop in time!
Inclusive Language guidelines for writing: https://divinity.vanderbilt.edu/portal/Inclusive%20Language%201999%20short.pdf
Chicago Manual of Style Online: https://catalog.library.vanderbilt.edu/permalink/01VAN_INST/6ll2l/alma991043262266203276
---
Writing Seminars
Info will be posted soon.