100+ Days Of Thanksgiving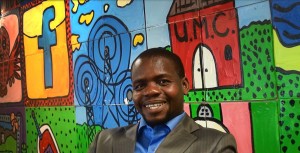 My first Thanksgiving in the United States of America coincided with my first 100 days at a time in this country. Perfected timing. I too joined the chorus of Americans in celebration of this day. What am I thankful for this year?
November 26, 2015, as I sit around a table full of baked turkeys, turkey dressing, cranberries and all the traditional Thanksgiving pies, I reflect on these days and the journey that led me to Nashville, Tennessee. I could not help but think of two faces: Katherine Hande Smith and Tim Tanton. The first is assistant dean for admissions, vocation, and stewardship in the Divinity School, and the second is executive director of global voices, news and information of The United Methodist Church Communications Agency.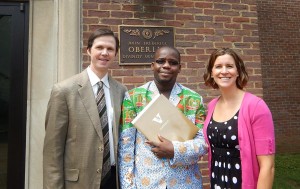 Katherine and Tim are two public faces of institutions for which I am thankful for in these 100 days: Vanderbilt University Divinity School and United Methodist Communications and Discipleship Ministries. Mandated by their respective organizations, they work hand in hand with me to overcome all the hassles that financially challenged international students have to face to pursue higher education in the United States. They proved wrong one of my friends who had a bad educational experience in the US. I remembered his words in April: "These people may roll out the red carpet. But, once you are there, they disappear." During each of these 100 days, Katherine and Tim have been present.. They have stood with me as I started my first day of class. They have stood with me in the corridors of the Divinity School. They have stood with me on my way back and forth to school. They are still standing with me daily and through emails and phone calls.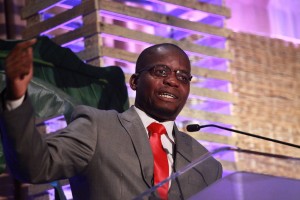 My faith journey started in Côte d'Ivoire (Ivory Coast), a country on the west coast of Africa that many Americans cannot locate on a map. The United Methodist Church has a strong presence (more than 1.3 million, 1,030 local churches) but with a very small number of pastors to serve the people (196). My 16 years of communication experience in the Côte d'Ivoire Episcopal Area and my continental forays as a church journalist in countries like Ghana, Sierra Leone, Liberia, Kenya, Zimbabwe, Israel, India, and The United States of America have fanned the flames in me to proclaim God's word to those who have and have not accepted Jesus Christ as their personal Savior. As a result, I answered a call to pastoral ministry.
Then came the challenge of getting the best possible theological education to break cultural and spiritual boundaries. Receiving a full-tuition scholarship to attend Vanderbilt University Divinity School has, in 100 days, enriched my academic and professional foundation and enabled me to engage in ecumenical dialogues with like-minded seminarians for the common good. The best is yet to come.
I am a huge devotee of the Wesleyan tradition, and this has been my backbone for doing my ministry. In 100 days at the Divinity school, I have found in the Methodist Student Association and the Black Seminarians Association a way to keep ties with my faith and cultural traditions. My course in United Methodist polity and practice with Bishop Joe E. Pennel, my academic adviser, helped me learn about the scope of United Methodism in the World as I too shared its practice in Africa. Yet, in 100 days, I have also been empowered to understand and practice ecumenism. Besides, the weekly interfaith services, I engaged in an interreligious experience with "Sacred Borders", by speaking and visiting with friends in their communities. I experienced worship, for the first time ever, in a mosque and meditated in a Buddhist center.
I would have not survived these 100 days without the strong support of the faculty, professors, teaching assistants, writing tutors, and classmates whose patience ensured a smooth immersion in the English and theological world. They keep reminding me, "Never hesitate to ask… We are here for you." I had doubting days too, but the smile of Angela Dillon brightens them.
In 100 days, Katherine and Tim have been instrumental, yet Vanderbilt University Divinity School, United Methodist Communications and Discipleship Ministries have proven that these two faces are only the tip of the iceberg. The people supporting my theological education are too many to name. They are my family far away from my family. I wish I could help them in return. I would not have been able to achieve my God-given purpose without this scholarship and friendly support.
Above all, in these 100 days, I am grateful to God, the Creator who has called and sustained me though His servants, and who is watching over Oheneba Jason, my ten-month-old son; Diane, my wife; and my beloved ones in the remote area of West Africa.
Thanksgiving Day has come and gone. Yet, I want to live everyday as a thankful person for the past, the present, and the future.  Armed with this seminary experience, I already know I can be a conduit of hope for the world by providing to people the necessary means and information for discerning the will of God in order for people to reclaim their destinies from a wicked world. As I am becoming educated at Vanderbilt University Divinity School serving in internships at United Methodist Communications and Discipleship Ministries, the Lord is opening new channels for me to tell life-changing stories. Thanks be to God.
by Isaac Broune, MDiv'1