My First Year Experience – Joy Bronson
My experience of my first semester at Vanderbilt University Divinity School has been one of inverted expectation, though (now) beautifully so. I came here as a second-career student, determined to be the scholar that I hadn't been eight years ago as an undergraduate; I know my purpose for being in school this time around. Unfortunately for that dream, I quickly discovered that my pursuit of ordination in the United Methodist Church gobbles up a significant portion of my credits, so I won't be pursuing ministry as directly through my classes as I had planned.
This shifted me, however, to broadening my knowledge of VDS and its opportunities for exploration and creation rather than solely what is already structured—and it's a lot! The people are the first and foremost joy of being here. I have joked with a couple of friends since arriving that, "Everyone is so nice! We're in the norming stage, so I keep waiting for the other shoe to drop and the masks to come off. But this is divinity school and it's been three months, so I also think that everyone might genuinely be this nice!" And so far, that has held true not just with fellow students, but also with staff and faculty who, in my experience, are just as excited for and invested in our health, well-being, and journeys as we are our own. I have lost count of the number of times that I discussed my ministry with anyone—and their excitement, suggestions, and feedback, about what at times is humdrum—for me has renewed my passion for my work.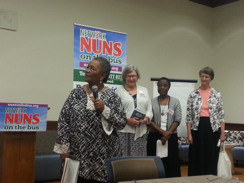 I also have been continually reminded that there is such a time and place for specific moments in our lives. For me, there have been no better moments than discovering—be it through events, lectures, or conversation—that my call or ministry aligns or overlaps with someone else's, and we're suddenly not quite so isolated on this holy journey as previously believed. I am honored to be in the midst of so many others determined to make ministry live, breathe, and move. I changed from the MTS to the M.Div. program after several conversations helped me refine my ministry in a way I hadn't been able before arriving here. I now see clearly the value of field education and in general an environment that supports and inspires my vision, and will challenge and help propel me to where I'm seeking to go.
One semester down; I'm joyfully anticipating the discovery in the final five.
by Joy Bronson, MDiv'1