Alumni/ae Tuesday: Rev. Susan Steinberg
Our monthly Alumni/ae Tuesday Guest Post series on the VDS Voices blog highlights posts written by VDS and GDR alumni/ae. Hear firsthand about their important work in the community, collaborations with other alumni/ae and faculty, and much more.
Be sure to also check out the Divinity School Instagram feed every Tuesday for our Alumni/ae Instagram Takeover Day. Each week, we will showcase a different alumnus/a as they document their day in photos. Follow @VUDivinity on Instagram today!
If would like to contribute a post to the Alumni/ae Tuesday Guest Post series, or participate in our Alumni/ae Instagram Takeover Day, please email Addie Sullivan (addie.sullivan@vanderbilt.edu)  in the Vanderbilt Divinity School Alumni/ae office.
_______________________________________________________________________________________
Rising seas. Relentless wildfires. Colossal storms and devastating droughts. Around the globe, the least of our brothers and sisters and the entire Creation God calls good groan from the impact of climate change.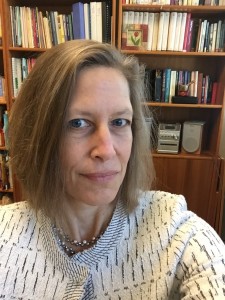 As VDS trained me to ask about all matters of faith, how do pastor-theologians reflect on and respond to the fragile balance of life on earth?
This question framed and focused the sabbatical grant project, "Be Still and Behold," I will engage in this summer, thanks to a generous grant from Lilly Endowment's Clergy Renewal Program.
Like many congregations, the congregation I serve tries to do its part to treat our small but sacred piece of God's planet with dignity.  We advocate for environmental protections. We designed a Nature Discovery Area next to the church to enhance parishioners' experience of wonder. We've hosted biblical scholars, theologians and preachers who have deepened our understanding of the intersections between the degradation of human communities and the degradation of soil, air and water—and inspired us to act. We recycle everything we can, keep a compost bin in the kitchen and recently completed the largest solar panel installation on any religious building in our state. We can and should do more.
As I considered how I would spend the precious gift of sabbatical time, though, I found myself longing to do less and stop more, to go among the trees, as the poet Mary Oliver says, "walk slowly and bow often."  I felt called to experience awe again, as the young children I work with do so naturally, and hold my relationship with Creation in the light.  Am I a steward of the earth or am I, like Thomas Berry says, in reciprocal relation with all living things?  If the latter, then given the opportunity to listen, might God have a transformative word for me from what the poet Nikki Finney calls "the intelligence of the land," a word I could pass on to others upon my return?
To dig for answers, I will "be still and behold" close to home, "going among trees" within walking distance of my house. I'll also practice being still and beholding on some of land's edges. I'll participate in a contemplative pilgrimage to Iona Island in Scotland, spend a week each on Orcas Island and in the Cascade Mountains in Washington State, and connect with marine life during a two-week stay on Bald Head Island, North Carolina.
I hope these experiences sharpen my pastor-as-theologian lens. I hope I return renewed for ministry. But mostly I hope I come back with a full heart.  For as my teacher Carolyn Toben says, "We will only save what we love."
Rev. Susan Steinberg (VDS 1992)
Associate Pastor for Children's Ministries at United Church of Chapel Hill.