Creating Change 2016 – Levi Dillard
The National Conference for LGBT Equality: Creating Change is an annual event. It's truly a one-of-a-king organizing and skills-building event for the LGBTQ community and allies. The 28th annual Creating Change conference was held in Chicago, Illinois, this year. Vanderbilt Divinity School student delegates Shakiya Canty, Levi Dillard, Sarah Jordan, and Marty B. Tracy attended along with 
The Carpenter Program's Carlin Rushing (Program Coordinating Fellow) and Lyndsey Godwin (Assistant Director).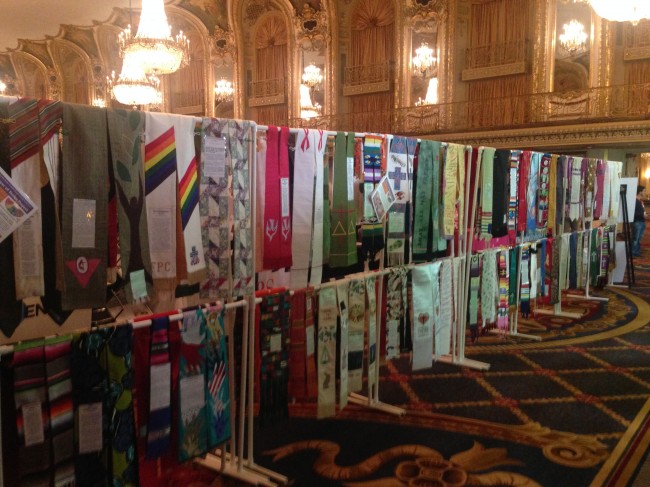 Because my field education placement this year has been as an intern at the Oasis Center, serving 18 to 24-year-olds who are experiencing homelessness, and a large portion of our population of young people are LGBTQI* identified, I was excited to attend Creating Change and participate in the day long institute entitled "How to Serve Effectively Queer Youth Experiencing Homelessness."
The institute began with a workshop on understanding the effects of ageism (the notion that because people are young, they cannot or do not know what is best for themselves). I was particularly appreciative that this was the first issue addressed because I often see a breakdown between what service providers think young adults need and what clients actually deal with in their daily lives and express as needs.  Paying attention to ageism and the fact that young people can, in fact, speak for themselves and are capable of naming the conditions they think will make their lives fuller, is a much better, more effective way of providing care.
The rest of the institute was focused on programs from different parts of the country that have been implemented to do the work of serving queer youth who live on the streets and struggle for daily survival.  Probably the most important program was presented by a group of young, formerly un-housed teenagers who were employed by the agency with which they had worked while they were homeless.  This group of eight young people had been hired to construct a transitional living program for others experiencing homelessness.  I found this programmatic approach to be brilliant and exciting—brilliant in the sense that, of course, a program that seeks to serve queer, homeless youth should actually crafted by queer, homeless youth because they know the needs that are particular to their situation—and exciting because I think that including clients in the crafting of programming for future clients opens up a myriad of possibilities for what services for marginalized populations can and should look like, even in the simple act of job creation for people who often have a rough time finding work in a system that often overlooks them.
Aside from the particulars of what certain programs for queer youth can look like, the institute and the conference in general highlighted the beauty in recognizing all people as having worth and the ability to contribute to a productive society. Yes, I have taken away some very practical resources for strengthening the work for which I am fortunate to be involved, but I also came away from the weekend strengthened in my resolve to work towards a more harmonious, inclusive society where all voices, gay/straight, housed/un-housed, able/disabled, rich/poor are taken into consideration and lauded as having worth and importance.  It seems to me that that is the only way any of real, sustainable progress can be made.  I do not know about you, but to me, living in a world where everyone has worth and value seems pretty amazing.
by Levi Dillard, MTS'2