Giving Tuesday – Cameron Barr, MDiv'12
Our monthly Alumni/ae Tuesday Guest Post has expanded! We're proud to present #VDSGiving. We have invited VDS and GDR alumni/ae to write about what their Divinity School education meant to them, and to also write about the impact of the scholarship assistance they received. Our goal is to demonstrate how scholarship support has a lasting impact on our students, and to highlight the importance of giving.
Be sure to also check out the Divinity School Instagram feed every Tuesday for our Alumni/ae Instagram Takeover Day. Each week, we will showcase a different alumnus/a as they document their day in photos. Follow @VUDivinity on Instagram today!
If would like to contribute a post to the Alumni/ae Tuesday Guest Post series, #VDSGiving post or participate in our Alumni/ae Instagram Takeover Day, please email Addie Sullivan (addie.sullivan@vanderbilt.edu)  in the Vanderbilt Divinity School Alumni/ae office.
___________________________________________________________________________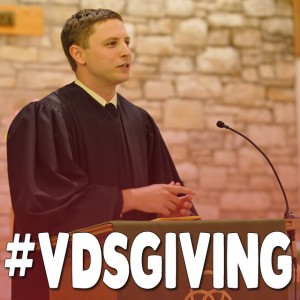 When the Lord your God has brought you into the land that He swore to your ancestors…take care that you do not forget the Lord who brought you out of the land of Egypt.  -Deut. 6: 10-12
Last fall, a little more than three years after graduation, I made my last payment on debt assumed as a student at Vanderbilt Divinity School. Money was a concern for me from the very beginning as I know that it was for many of my classmates. I had a good car and a roommate to share rent, but no savings.  My plan was to pick up odd jobs where I could and live from loan check to loan check.  (It's eight months from January to August, not six!) Borrowing the money was a little scary, but I saw it as an act of faith in a calling that I deeply felt.  That calling was to be tested strenuously.
No reason not to be honest here—I had some tough times in seminary. Days before I matriculated, ecclesiastical pinheads denied my petition to become a candidate for ordination on the basis of my sexual orientation. Their decision was a major surprise and disappointment to me. For the next three years my future as a minister looked uncertain. After a family crisis that occurred on the day of my first Gala, I considered dropping out to return home. I felt little promise for ministry on many days.
At the same time, it was hard to deny my good fortune.  Looking back on those struggles, I can see how God was saving me. My roommate, a classmate, was a solid rock of friendship and grace. My professors helped me to discover an authentic voice for leadership in the church. My Covenant Discipleship Group prayed without ceasing. In public remarks, Dean Hudnut-Beumler once described in detail the School's efforts to provide more scholarship support to students. I had a lot of help.  And I wasn't the only one making sacrifices for my education.
As I wrote that final check, I said a prayer of thanksgiving for all the people past and present, known to me and unknown to me, who helped me get through school and pay for my education.  Now in the season of Lent, I'm writing another check, not because I owe the money, but because I have experienced myself how God uses the offerings of so many people to make ministry possible through the School of the Prophets.
Cameron Barr, MDiv'12
Pastor of Grinnell United Church of Christ in Grinnell, Iowa