Alumni/ae Tuesday: VDS Alumni @ Vanderbilt
Vanderbilt Divinity Alumni serve in churches, organizations, and institutions across the country and around the world. Some, however, choose after they graduate to make a transformative impact right here on campus. This series features VDS alumni who work at Vanderbilt, showing the range of work a theological education can prepare one to do. We hope you'll enjoy getting to meet them!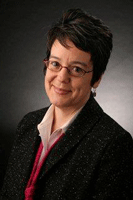 Kitty Norton, MDiv '98
Assistant Dean for Development and Alumni/ae Relations
How is your work at Vanderbilt shaped by having pursued a theological education?
Because I have a theological education from Vanderbilt, I am able to relate to alumni at a deeper level. My experience is similar to their experience. We often have had some of the same professors. Many of our alumni share the same passion for justice and I am able to tell them that VDS is more passionate about ministry and justice than ever before.
Who was your favorite professor (or what was your favorite course) at VDS and why?
I didn't have one professor that I thought stood out. I learned something from all of them. Viki Matson, Evon Flesberg, Sallie McFague, Dale Johnson, Forrest Harris and David Buttrick stand out in my mind. Each shaped my ministry in different ways. They taught me different things and different ways to see the world.
What do you like best about Nashville?
I like that Nashville has a lot to offer people of all generations. It's a city that has vibrant pockets of diversity. Nashville has become a city that welcomes strangers, and takes in refugees. And, Nashville has great places to eat, hang out with friends, hike, bike and practice yoga. There is, in addition to music, a vibrant art scene and some young entrepreneurs.