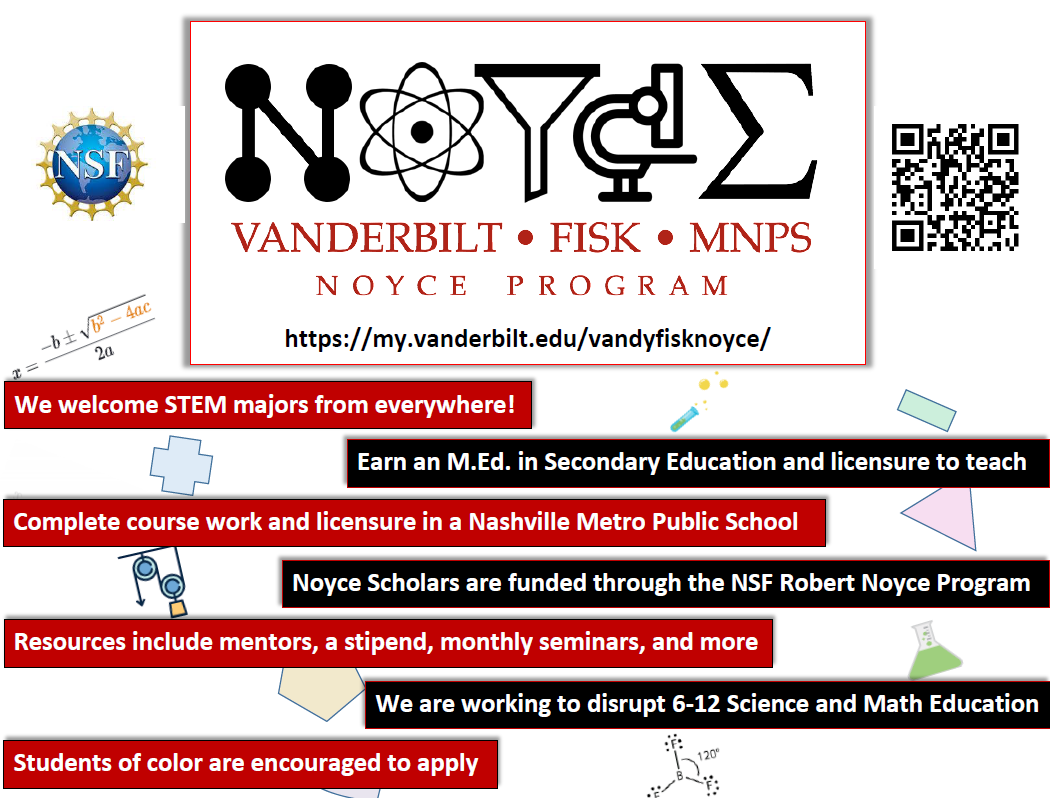 Recruitment and Preparation of Next Generation STEM Teachers is a Noyce program for STEM majors interested in exploring a career in teaching.
By partnering with our M.Ed. in Secondary Education, STEM graduates from any university can apply to Vanderbilt's secondary education program and earn an MEd and licensure while working as a Noyce scholar. Additionally, undergraduate STEM majors from Vanderbilt or Fisk University can start the program during their senior year. The Noyce program offers support for students through: a generous stipend, mentoring by university and K-12 faculty, collaboration between education and STEM faculty at both universities, and individualized educational plans.
The Recruitment and Preparation of Next Generation STEM Teachers Noyce program is committed to improving K-12 science and math education in high-need school settings through a unique teacher training program for highly qualified STEM (science, technology, engineering, and math) majors.
Systemic racism permeates our country. Several of us, our students, our friends, our colleagues, and our families are grieving and going through trauma. Recently, many of us have attended crucial conversations, reached out to Black students/friends/and families, made donations, and tried to decide how we can fight for racial justice. As a Noyce community, we have been thinking about this work for a while – but, now is the time for us to engage more actively in action. In an interview with Teaching Tolerance, Dr. Richard H. Milner said:
"My aim is to shepherd readers—educators—into reflective, proactive, and responsive spaces to move beyond complacency and beyond neutrality. Complacency is unacceptable if educators are committed to improving education for all. Moreover, neutrality is a conscious stance that works against social justice. In short, educators are either fighting for equitable education for all students, or they are fighting against it. There is no neutral space in this work."
As a Noyce program, our mission is to center striving toward anti-racism in our curriculum. We need to design brave spaces, not safe spaces – safe spaces do not exist. We need to value one another's humanity as we work toward justice. Dr. Milner has challenged us all to think about how "we can do better."
Our Noyce program supports teacher candidates in developing the necessary knowledge and skills to implement anti-racist pedagogies and to succeed as highly qualified STEM teachers in high-priority schools. Noyce scholars are supported through coursework designed to address the newest findings in educational research and take up this critical work through an apprenticeship with teachers in 6-12 math or science classrooms in our partner district, MNPS. Noyce scholars will earn both a master's degree in education and teacher licensure in grades 6-12.
The Recruitment and Preparation of Next Generation STEM Teachers Program at Vanderbilt is funded through the NSF Robert Noyce Scholarship Program. The project is a collaborative effort between Vanderbilt University, Fisk University and Metropolitan Nashville Public Schools. Our goal is to create a sustainable pipeline for next generation STEM teachers to thrive in teaching.
Vanderbilt University is proud to partner with Fisk University and Metro Nashville Public Schools. Robert Noyce Teaching Scholarship is funded by National Science Foundation.