Angel David Nieves, VR, and Postcolonial DH @ Vandy DCH
On Wednesday February 27, Angel David Nieves, an Associate Professor of History and the Director of the Digital Humanities Center at San Diego State University, came to Vanderbilt to deliver a series of talks at the Digital Humanities Center in Buttrick Hall. Dr. Nieves participated in an informal lunch conversation with students, faculty, and staff from noon to 1pm and in the afternoon he gave a lecture entitled "Intersectional Cartographies & Social Justice DH: 3D Digital Scholarly Editions Documenting Human Rights Violations From Apartheid-Era South Africa" during which he addressed a number of ongoing projects at the intersection of the Digital Humanities, social justice, and postcolonialism.
Dr. Nieves' talk was divided into three principal sections: existing institutional infrastructure to carry out DH projects with a social justice prerogative at colleges and universities like Hamilton College and San Diego State University, 3D modeling and Virtual Reality (VR) reconstructions of lived environments as pathways to understanding history, and the progress made and forthcoming in the realm of 3D scholarly editions. Nieves encourages us to explore the creation of 3D and VR as a means of approaching the past because it helps us, as Martha Nell Smith writes, "[embrace] messy humanity in all of its complexity."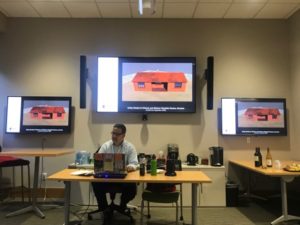 By citing projects like Rome Reborn and his own project Soweto '76, Nieves highlighted the ways in which a robust archive of oral histories, architectural plans, geographical data and images, and newspaper accounts of human development can be brought together to engineer a simulation of lived environments during crucial moments of history, like the Soweto uprising of 1976.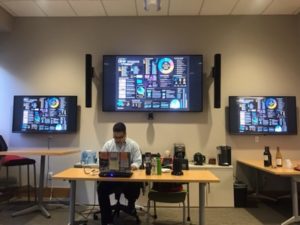 Nieves explains through simulations and the architecture of various townships in Soweto that it is possible to recover narratives of popular resistance and commemorate the lives of protestors who died fighting for equality and, in the case of South Africa, desegregation.
Nieves closed with a discussion of the latest developments with 3D publishing platforms by outlining and showing demonstrations from the forthcoming release of the Soweto '76 project.