International Interfaith Delegation to El Salvador Part 3
This March four students took part in the first ever International Interfaith Delegation to El Salvador in support of LGBTQI activist and people of faith, and attended the inaugural Festival de Fe in San Salvador (this trip/event coincided with the annual recognition of the martyrdom of Monsignor Oscar Romero.  The work happening in El Salvador is groundbreaking, as is the development of this partnership, and we are part of it.
This month, we share reflections from the students who were part of the delegation. Our third  reflection is by Priscila Dorcas Mojica, MDiv3. (Read the first reflection here and the second here.)
Sexism:
"refers to the gender stereotyping of men and
women as hierarchically ordered (men over women) and
also as confined to limited cultural identities
and roles of 'masculine' and 'feminine.[1]'"
Machismo:
"exaggerated aggressiveness and intransigence
in male-to-male interpersonal relationships and
arrogance and sexual aggression in male-to-female relationships.[2]"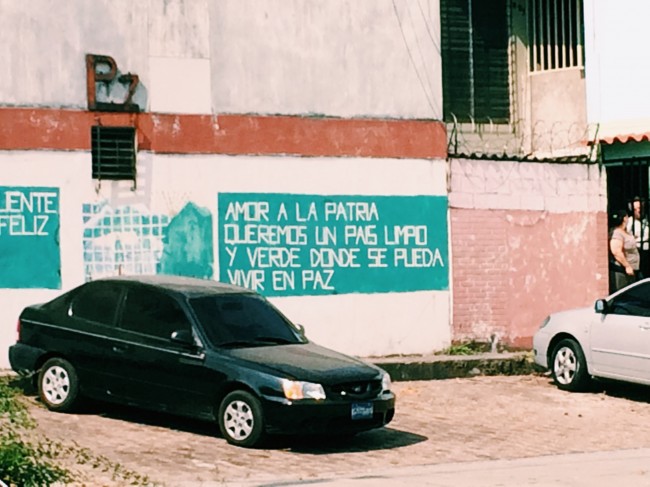 We need to decolonize machismo before we can call ourselves allies to Latin American countries.  While on our trip to El Salvador we heard the following message: "in El Salvador, machismo stops conversations around the rights of LGBTI communities…" And if we were listening, the conclusion to be made was that machismo is more problematic than sexism.  Unfortunately, to distinguish the two implies a hierarchy of progress where the USA is above El Salvador in terms of the treatment of women.  As a post-colonial Latina feminist, I cringe at such an unanalyzed approaches toward entire peoples.
As I processed my own feelings concerning the obvious disconnect between patriarchal/kyriarchal sexism versus colonized machismo, I am left with more questions than answers.  But one thing I know is that machismo and sexism are not the same.  Cynthia Enloe writes about how men from our colonized countries, who can remember having our lands and women raped, quickly made a connection between the protection of land/nationalism with the protection of women's bodies.[3] Therefore, external regulation of women's bodies is a direct result of colonization.  Women also began to regulate themselves as a response to colonization, because survival meant dealing with rape and fear. [4] So, yes, sexism looks differently in Latin America but not because the USA is "better" – sexism looks differently because of colonization, and to eradicate that narrative is to look toward systems of oppression instead of bringing our "progressive agendas" that still utilize the colonizers language and methods of teaching the oppressed.  So as result form our trip to El Salvador, I am thinking and rethinking my position on sexism in various contexts, and I hope to become a better ally for my hermanxs but furthering conversations on the many "isms" that keep some of us down.
---