Xi'an, Xianxi, KEYNOTE SPEECH for ICRCA
Posted by frankewp on Sunday, August 4, 2019 in News.
"Religion, Culture, and Art: Their Common Matrix"
KEYNOTE SPEECH for ICRCA International Conference on Religion, Culture, and Art, MIGCCA (Modern International Green Culture Communication Association) (Co-Organizers: University of Zagreb, Yun Tech, University of Glasgow)Xi'an, Xianxi, China, September 21-22, 2019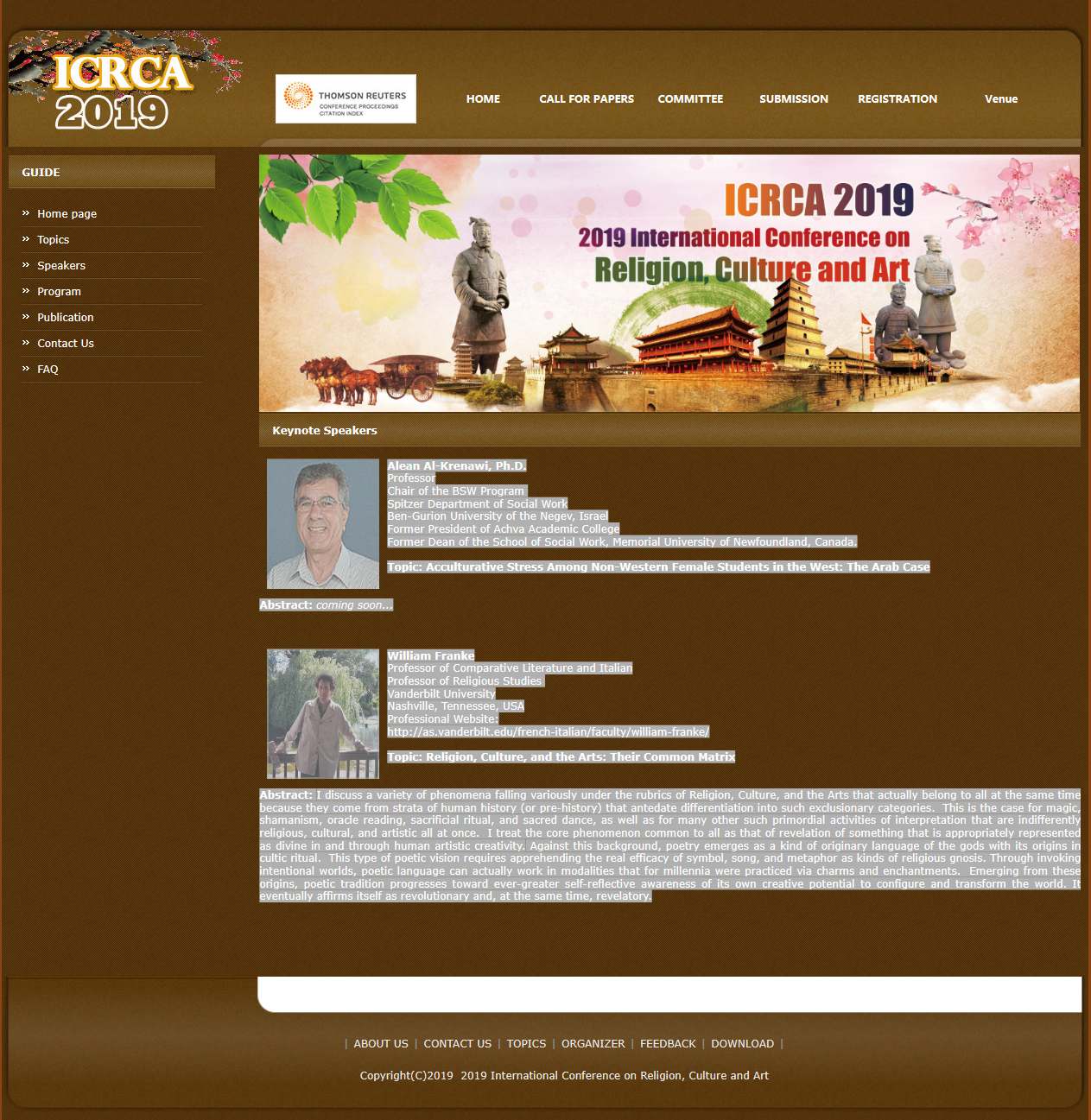 Spitzer Department of Social Work
Ben-Gurion University of the Negev, Israel
Former President of Achva Academic College
Former Dean of the School of Social Work, Memorial University of Newfoundland, Canada.
Topic: Acculturative Stress Among Non-Western Female Students in the West: The Arab Case
Abstract: coming soon…
William Franke
Professor of Comparative Literature and Italian
Professor of Religious Studies 
Nashville, Tennessee, USA
http://as.vanderbilt.edu/french-italian/faculty/william-franke/
Topic: Religion, Culture, and the Arts: Their Common Matrix
Abstract: I discuss a variety of phenomena falling variously under the rubrics of Religion, Culture, and the Arts that actually belong to all at the same time because they come from strata of human history (or pre-history) that antedate differentiation into such exclusionary categories.  This is the case for magic, shamanism, oracle reading, sacrificial ritual, and sacred dance, as well as for many other such primordial activities of interpretation that are indifferently religious, cultural, and artistic all at once.  I treat the core phenomenon common to all as that of revelation of something that is appropriately represented as divine in and through human artistic creativity. Against this background, poetry emerges as a kind of originary language of the gods with its origins in cultic ritual.  This type of poetic vision requires apprehending the real efficacy of symbol, song, and metaphor as kinds of religious gnosis. Through invoking intentional worlds, poetic language can actually work in modalities that for millennia were practiced via charms and enchantments.  Emerging from these origins, poetic tradition progresses toward ever-greater self-reflective awareness of its own creative potential to configure and transform the world. It eventually affirms itself as revolutionary and, at the same
ICRCA 2019 : 2019 International Conference on Religion, Culture and Art
Link: http://www.icrca2019.com
| | |
| --- | --- |
| When | Sep 21, 2019 – Sep 22, 2019 |
| Where | Xi'an, China |
| Submission Deadline | Jun 20, 2019 |
| Notification Due | Jul 5, 2019 |
| Final Version Due | Aug 20, 2019 |
Call For Papers
ICRCA 2019 is organized by Modern International Green Cultural Communication Association (MIGCCA). The aim as well as objective of ICRCA 2019 is to present the latest research and results of scientists working in the fields of religion, culture and arts. The intention is to establish an effective platform for institutions and industries to share ideas and to present the works of scientists, engineers, educators and students across the globe. The organizing committee of Symposium is pleased to invite prospective authors to submit their original manuscripts for possible presentation at ICRCA 2019.
Publication:
All submissions will be peer reviewed, and all the accepted papers will be published by Clausius Scientific Press (CSP) in the proceedings series of Lecture Notes in Arts and Humanities (ARTSH), ISSN 2617-104X (Online).
Submission Requirements:
1. All submitted papers MUST be written in English.
2. Submission must not have been, or will not be published elsewhere or submitted to another conference before the review notification date of this conference.
3. A conference article should have the following elements: Abstract, Keywords, Introduction, Methods, Results and Conclusion.
4. Each paper should be at least 4 pages or longer (3000-5000 words).
5. The topic of the article should be related to the theme of the conference.
Submission Method:
Please send your paper to the email: icrca2019@migcca.com
Conference Schedule:
September 21, 2019
10:00-17:00 Registration, collecting conference materials, Visit / Tour
September 22, 2019
09:00-12:00 Opening Remarks and Keynote Speeches
13:30-17:00 Oral and Poster Sessions
Conference Venue:
Xi'an, China
For any inquiry about the conference, please feel free to contact us at:
Conference Secretary:
Ms. Emma Fong
Tel: +86 189-7105-0053; 027-8778-0220
---