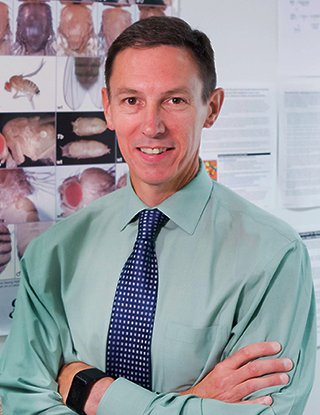 Shane Hutson is a Professor of Physics and of Biological Sciences. He is also a Deputy Director of VIIBRE (Vanderbilt Institute for Integrative Biosystem Research & Education) and Director of VPROMPT (Vanderbilt-Pittsburgh Resource for Organotypic Models for Predictive Toxicology). Professor Hutson joined the faculty at Vanderbilt University in 2003.
His research interests are in biological physics — specifically in how biological systems can be probed and manipulated by light (biophotonics), in how cellular forces drive tissue morphogenesis (biomechanics), and in how embryonic development is disturbed by environmental exposures (systems biology of developmental toxicology).
Current projects in the lab include:
investigating the mechanisms by which cells detect nearby wounds, trigger calcium signals, and marshal wound-closure responses;
using modeling and laser-microsurgery to probe the inter- and intra-cellular forces that drive morphogenesis; and
using computational models and organs-on-a-chip technologies to investigate the mechanisms of developmental toxicity.
For more information, see the Research page.
The Hutson lab is currently looking to hire a postdoctoral fellow. Consider joining us!