Home » Historic Black Nashville » Students from University Course 'Historic Black Nashville' Visit Fisk University
Students from University Course 'Historic Black Nashville' Visit Fisk University
Posted by anderc8 on Wednesday, June 13, 2018 in Historic Black Nashville, News.
The University Course 'Historic Black Nashville' was offered for the second time during the spring 2018 semester. To chronicle some of the highlights of the course, several students authored blogs reflecting on site visits the class took during the semester. Over the next few weeks, these blogs will be published on the VU BreakThru webpage.
This featured blog focuses on the class visit to the Fisk University Special Collections.
Written by Paola Ellis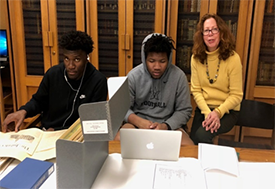 I wrote my research paper on the lynching of 17-year-old Cordie Cheek. He was falsely accused of beating up a white boy named Henry Carl Moore, who was close in age. Although he was found 'not guilty' due to insufficient evidence, associates and friends of Henry Carl Moore decided to take matters into their own hands.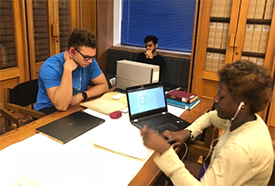 Together, Henry Carl Moore and his friends kidnapped Cordie and lynched him within hours of Cordie's release from jail. Cordie was kidnapped directly across from the front entrance of Fisk University's campus, so being on campus and walking along the same street where Cordie was kidnapped felt surreal. The trip was helpful because I was able to identify a couple of students from the Special Collections materials who witnessed the kidnapping. Fisk has an archive of materials I would not have found anywhere else. While conducting research in Special Collections, I found affidavits and other pieces of evidence that were essential pieces of information for my paper.