Grant Pacing Workshops
Pace yourself smoothly to completion of your grant application.
Registration has closed. Please reach out to Adrienne Babcock if you want to join the group for October 2021 submissions.
Open to Vanderbilt University, Vanderbilt University Medical Center, and Meharry Medical College postdoctoral fellows and early career faculty who are currently preparing a career development award (K or equivalent) or R01 grant.
The Edge Grant Pacing Workshop and peer accountability groups are designed to help you prepare the best possible grant. This virtual workshop includes self-paced prep materials, pre-recorded videos, and face-to-face sessions with senior investigators. Between sessions, Dr. Katherine Hartmann and Dr. Ashley Hood and Edge for Scholars at Vanderbilt resources will be available.
The goal of the workshop is to help you keep steady progress to completion of your application for October 2021 grant submission deadlines. (September deadlines for AIDS-related grants.)
You must be preparing a career development award (K-equivalent) or R01 grant.
Pertinent dates for this cycle are shown in green column below.
A registration email with exact workshop dates typically goes out one month before the first workshop of a series.  Email Adrienne Babcock to be placed on the distribution list or with inquiries. [In September, registration will open for the February 2022 grants cycle.]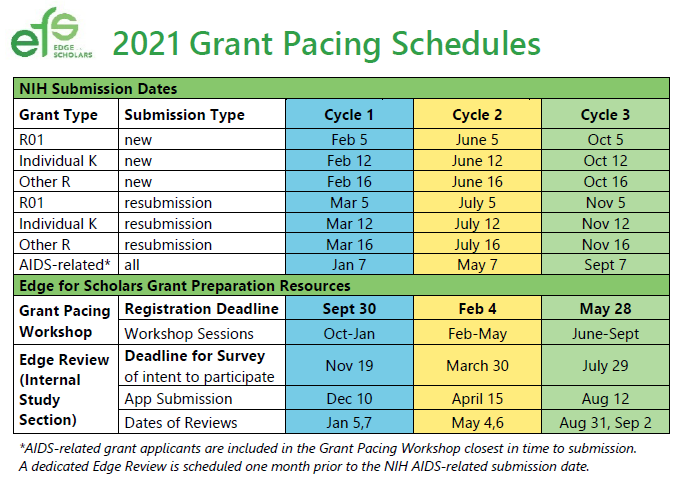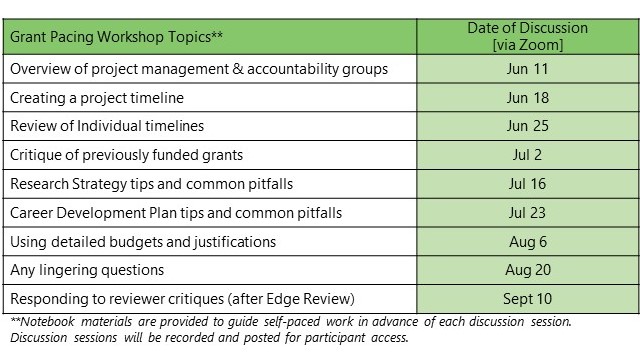 Materials for Pacing a K or R01 Award
eNotebook
Video Library
Checklists
Handouts
Resource Links
Writing, Editorial, Personal, and Other Types of Assistance
Office of Clinical & Translational Career Development OCTSD