Jewish Educational Travel
Posted by kelnersj on Wednesday, September 21, 2011 in Articles, Chapters, Research.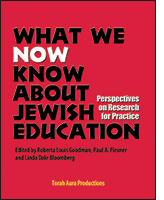 2008.
Drawing on anthropological research on travel and tourism, this chapter offers a theoretical groundwork for articulating a program of research in Jewish educational travel, broadly conceived.
Shaul Kelner. 2008. "Jewish Educational Travel." Pages 423-432 in What We Now Know About Jewish Education: Perspectives on Research for Practice. Edited by Roberta Louis Goodman, Paul J. Flexner and Linda Dale Bloomberg. Los Angeles: Torah Aura.
Tags: chapters, pedagogy, tourism
---