Toward the Study of Community Effects on Jewish Engagement: The Case of Educational Enrollment
Posted by kelnersj on Wednesday, September 21, 2011 in Articles, Chapters, Research.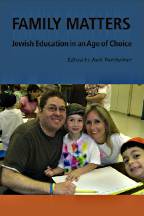 2007. (with Steven M. Cohen). Chapter 9 in Family Matters: Jewish Education in an Age of Choice. Edited by Jack Wertheimer. Hanover, NH: University Press of New England. Pp. 257-74.
Studies in the sociology of education: One of three chapters analyzing the roles played by families, schools, communities, and advocacy groups in Jewish education.
To read the chapter, click here.
---