The Bureaucratization of Ritual Innovation: The Festive Cycle of the American Soviet Jewry Movement
Posted by kelnersj on Monday, December 12, 2011 in Articles, Research.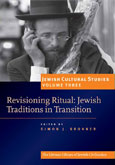 2011. Jewish Cultural Studies 3:360-391.
Since the 1960s, social movements have been key forces in the development of new religious rituals that are reshaping American Judaism. This article examines how the American movement to free Soviet Jews systematized and even bureaucratized the process of ritual innovation as it developed an annual calendar of activities pegged to the Jewish holiday cycle.
Tags: articles, ritual, social movements, Soviet Jewry Movement
---