Historical Perspectives on Diaspora Homeland Tourism: 'Israel Experience' Education in the 1950s and 1960s
Posted by kelnersj on Wednesday, April 23, 2014 in Articles, Research.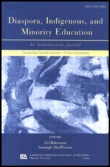 2013. In Diaspora, Indigenous and Minority Education 7(2): 99–113.
Homeland tourism is a powerful medium of diasporic education. Yet efforts to understand the enterprise are hampered by neglect of the field's history. This article contributes to the historiography of diaspora homeland tourism by examining the emergence American Jewish educational tours of Israel in the 1950s and 1960s. Archival research and oral histories reveal that the early programs were not merely homeland-oriented, but also organizationally-oriented, seeking to establish sponsors' institutional footholds in Israel  and to foster travelers' identification not just with Israel, but also with the sponsoring organizations and their ideologies. In their divergence from present-day Jewish educational tours of Israel, the early programs suggest new lines of inquiry about contemporary homeland tourism.
Tags: articles, Birthright Israel, diaspora, education, israel, pedagogy, tourism
---