The American Soviet Jewry Movement's 'Uneventful' 1968: Cold War Liberalism, Human Interest and the Politics of the Long Haul
Posted by kelnersj on Thursday, October 18, 2018 in Articles, Research.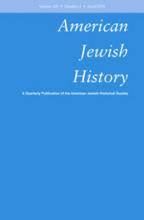 2018. In American Jewish History 102(1), 5-35.
How did the American campaign for Soviet Jews, a movement born in and of the 1960s, manage to pass the tumultuous 1968 in relative quiet? And what does this reveal about the movement itself, its relationship to the politics of the New Left, and the relationship between internal factors and external contexts in shaping how the movement unfolded?
To address these questions, we look to the work of local and national organizations associated with the "establishment" and "grassroots" wings of this factionalized social movement. We examine ways in which the movement was structurally unprepared or ideologically unwilling to undertake certain forms of mobilization in 1968. First, we consider American activists' unpreparedness for the emergence in 1968 of direct protest by Soviet Jews, and their failure to rally a major effort around the headline-grabbing events in the Eastern bloc that they did know of: Prague Spring and Poland's "anti-Zionist campaign." Then, after assessing the relationship of intra-movement factional protests to the politics of 1968, we draw on historian William Sewell's notion of "eventful temporality" to show how the uneventfulness of 1968 for the American Soviet Jewry movement stemmed in part from its rejection of the New Left's strategy of using confrontation to create watershed moments–a rejection rooted in the Soviet Jewry campaign's implicit Cold War liberalism and desire to coopt, not challenge, American governmental power. While this left the struggle for Soviet Jewry on the sidelines in 1968, it enabled the campaign to successfully enlist the US government as an ally in the decades to come.
Tags: social movements, Soviet Jewry Movement
---