À la rencontre des juifs de l'autre côté du rideau de fer : récits de voyage de juifs américains et représentation du judaïsme en Union soviétique
Posted by kelnersj on Sunday, December 22, 2019 in Articles, Research.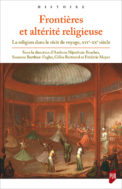 2019. "Encountering Jews on the other Side of the Iron Curtain: American Jewish Travel Writing and the Representation of Judaism in the Soviet Union", in Andreas Nijenhuis-Bescher, Susanne Berthier-Foglar, Gilles Bertrand and Frédéric Meyer, eds., Frontières et altérité religieuse : La religion dans le récit de voyage [Boundaries and Religious Otherness : Religion in Travel Writing]. Rennes, France: Presses Universitaires De Rennes. Pp. 253-273.
Tags: Soviet Jewry Movement, tourism
---