Explicit Instruction by Archer and Hughes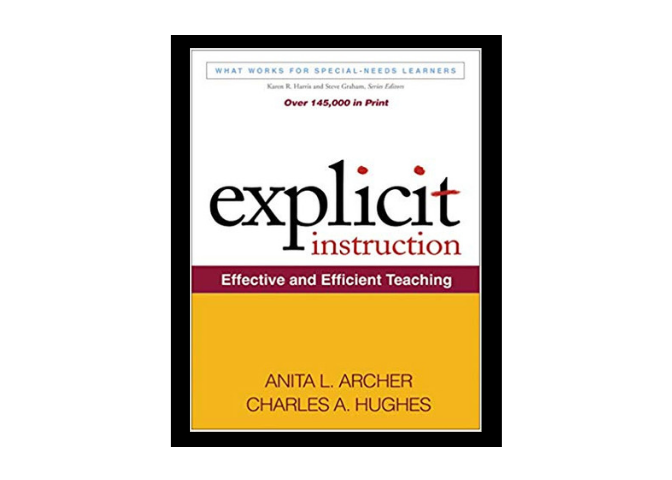 Click on the image of the book to find it for purchase on Amazon. 
Anita Archer and Charles Hughes describe the benefits of this book best:
"You may be wondering: How does this book fit into a series titled What Works for Special-Needs Learners? The answers are intervention and prevention. First, explicit instruction is at the heart of scientifically based interventions for special-needs learners in all of the content areas covered in previous books in this series: word recognition, reading comprehension, writing, and mathematics. Research (see Chapter 1) has made it very clear that interventions for special-needs students, whether intensive or strategic, require well-organized, explicit instruction that is unambiguous if they are to thrive academically. Second, explicit instruction is also at the heart of prevention—those actions taken in our schools to reduce the number of students requiring strategic or intensive interventions and to promote achievement gains across students. Given that the research supporting explicit instruction is equally strong in regard to teaching academic skills, strategies, and concepts in general education classes (especially in the areas of reading, writing, and mathematics), initial instruction must be clear, explicit, and engaging so that all students can thrive."
"Our desire in writing this book is to support you, the teachers, who have the very demanding task of delivering instruction on a daily basis, knowing that the fate of children's academic growth is truly in your hands. As you read these chapters, including the embedded example lessons, you will find that they reinforce much of what you already know. Be sure to acknowledge your current knowledge. In some cases, you will be reminded of a practice that you are currently not using but could include or reinstate within your daily teaching. Finally, we hope to expand your knowledge of effective and efficient teaching, for it is our strong belief that "how well you teach = how well they learn."
This book is a wonderful example of how to use the elements of explicit instruction in your classroom.  The book provides practical application in both elementary and secondary content areas as well as template to getting started with your instruction.
Along with the book, Archer and Hughes have created a website that features additional information and resources for their book.  Here is picture of the website so that you can see all the features available to you.
Click on the image to access the Archer and Hughes Explicit Instruction website.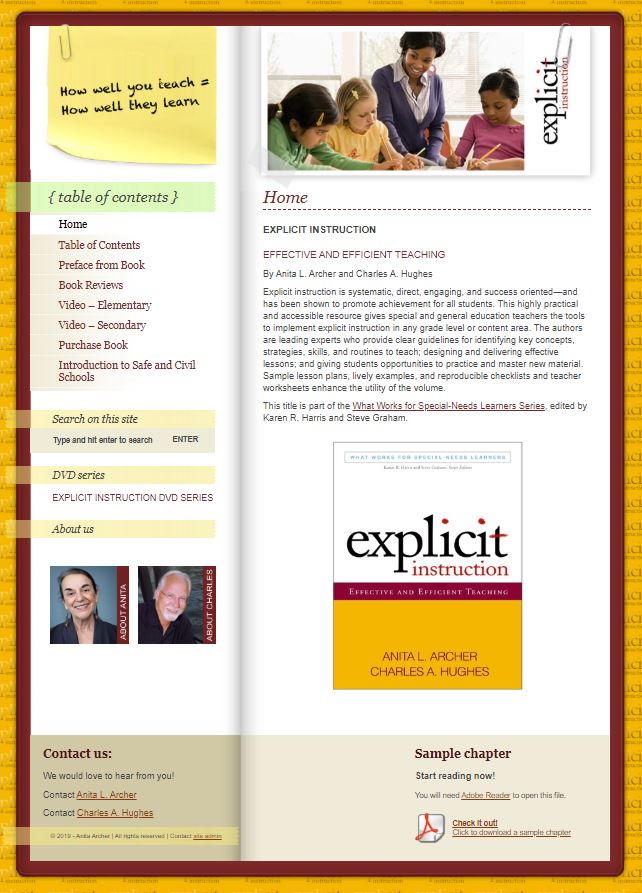 Along with additional resources for video instruction and a free download of the first chapter of their book, they also provide information about their instructional DVD series.  If you are interested in using Explicit Instruction for a professional development series then take a look at their DVD offerings.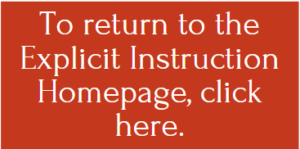 References:
Archer, A. L., & Hughes, C. A. (2011). Explicit instruction: Effective and efficient teaching. New York: Guilford Press.
Explicit Instructions: Effective and Efficient Teaching. (n.d.). Retrieved October 20, 2019, from https://explicitinstruction.org/.