Home » Events » Julia Kamasz and Luna Offer Stress Relief to Students During Finals Week
Julia Kamasz and Luna Offer Stress Relief to Students During Finals Week
Posted by vrcvanderbilt on Friday, December 14, 2018 in Events, HART, News, Student/Alumni, Vanderbilt University, VRC.
HART's Julia Kamasz and Luna, her beloved border collie/therapy dog, spent several hours at the Vanderbilt Recreation and Wellness Center on December 12 to offer stress relief and study breaks for students during finals week.
"Luna and I found great joy in interacting with the students," said Kamasz, "and made some new friends."
Therapy dog programs for stress relief are becoming increasingly popular in libraries and on college campuses across the United States. Studies have shown that petting an animal can lower blood pressure and heart rate, reduce stress and ease tension.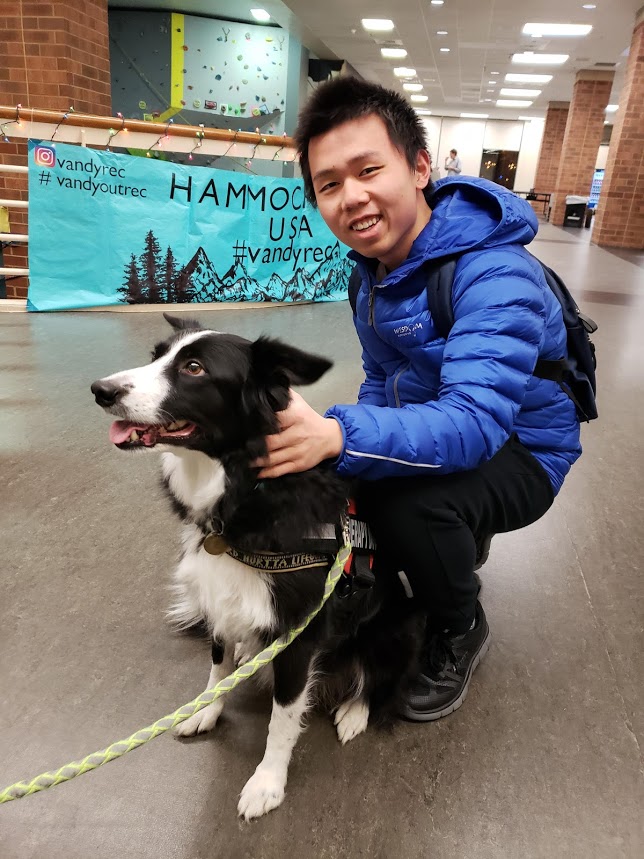 Therapy dogs also take exams. Luna undergoes training and testing throughout the year for canine good citizenship and therapy dog certification. She also serves as a therapy dog at the Davidson County Juvenile Court.
Luna works for Music City Pet Partners, a nonprofit organization serving Middle Tennessee and Southern Kentucky that promotes well-being, provides companionship, and educates our community by training and supporting therapy animal teams. For more information about the organization, please send general inquiries to info@musiccitypetpartners.org.
---