Home » Conferences » Christopher Johns to Present Paper on July 17 in Edinburgh, Scotland
Christopher Johns to Present Paper on July 17 in Edinburgh, Scotland
Posted by vrcvanderbilt on Monday, July 15, 2019 in Conferences, Events, HART, Lectures, News, Vanderbilt University, VRC.
Christopher Johns, Norman L. and Roselea J. Goldberg Professor of History of Art, will present a paper at the International Society for Eighteenth-Century Studies Congress in Edinburgh, Scotland, on July 17, whose overall theme is "Enlightenment Identities." Johns will address "Enlightenment Naples Imagines Imperial China: Queen Maria Amalia's Chinoiserie Boudoir in the Palace at Portici" in the session entitled "Identity in the Interior."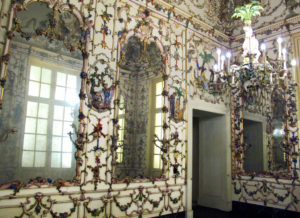 In 1743 King Charles VII of Naples and Queen Maria Amalia of Saxony established the Capodimonte Porcelain Factory outside Naples. As a princess of the Saxon Wettin dynasty, Maria Amalia was intimately familiar with the making of porcelain; the Electoral manufactory at Meissen, near the Saxon capital at Dresden, was the first place in Europe where hard paste porcelain was successfully produced. Scholars have long appreciated her leading role in the Capodimonte factory, but the Queen's intense piety has largely camouflaged her enlightened ideas that were the ideological underpinning of the project. Her political role at the Bourbon court often favored reform and administrative efficiency.
Wishing to compete with the Meissen porcelain produced in her native Saxony (in Italy designated porcellana di Sassonia) and to manufacture a luxury product for export to ease the flow of metallic currency from the kingdom of Naples, a characteristically physiocratic notion, Maria Amalia was keenly interested in both the efficient production of high-quality porcelain and in its economic and diplomatic value.
Johns will focus his paper on the Queen's boudoir at the palace at Portici outside Naples and its celebrated chinoiserie decorations. He argues that Maria Amalia, like many other eighteenth-century rulers, viewed chinoiserie not only as a fashionable fantasy but also as a visualization of modernity that doubtless appealed to Portici's elite visitors and served as a marker of progressive ideas.
This session is intended to provide the basis for an anthology Bedrooms and Boudoirs in the Global Eighteenth Century to be edited by Johns and Tara Zanardi (Hunter College, New York). Zanardi presented the Goldberg Lecture in Art History on April 9, 2015, entitled "Porcelain Pleasures and the Allure of the East: Charles III and China." She will present a paper in Edinburgh on the porcelain room at the Aranjuez Palace in Spain.
*Il Salottino di porcellana: Queen Maria Amalia's Chinoiserie Boudoir in the Palace at Portici
---