Home » Events » Vivien Fryd to Talk About Her Book on August 8 in California
Vivien Fryd to Talk About Her Book on August 8 in California
Posted by vrcvanderbilt on Wednesday, July 31, 2019 in Events, HART, Lectures, News, Vanderbilt University, VRC.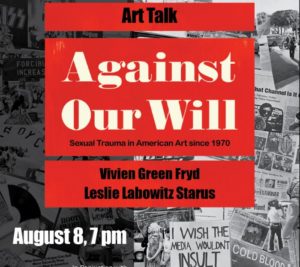 Vivien Fryd, professor of history of art, will speak about her latest book, Against Our Will: Sexual Trauma in American Art Since 1970 (The Pennsylvania State University Press, 2019) on August 8 at the Downtown Central Library, Glendale, CA.
Her talk is in conjunction with 1 in 3: Sexual Violence Pandemic (July 12-September 1), an exhibit on view at ReflectSpace Gallery within the library. Fryd will appear on the Against Our Will panel with artist Leslie Labowitz Starus to discuss feminism in art. Headlined by a massive 23-foot wide interior mural by Starus, 1 in 3 considers the historical sweep of this violence with works and performance addressing the Asian Comfort Women of WWII, the anti-sexual violence efforts of the 1970s, and the current #Metoo movement.
Radio stations across the country have interviewed Fryd.  Most recently, she was interviewed by Allison Dunne on WAMC (All Things Considered). Listen to the interview, "51%#1565: Documenting Sexual Trauma Through Art," that aired on July 24.
---