Home » HART » Downing Recipient Qisen Song Reflects on Research Trip to Belgrade and Ljubljana
Downing Recipient Qisen Song Reflects on Research Trip to Belgrade and Ljubljana
Posted by vrcvanderbilt on Friday, September 27, 2019 in HART, News, Student/Alumni, VRC.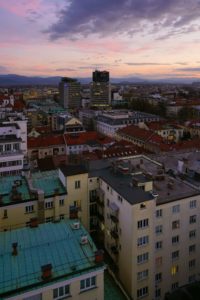 I was honored to receive a 2019 Downing travel grant to conduct architectural site visits and archival research in Ljubljana, Slovenia, and Belgrade, Serbia, for my honors thesis. My thesis investigates the profound impact of political ideology on architecture with the comparison of the Great Hall of the People (1959) in the Tiananmen Square of early Communist China and the Federal Executive Council Building (1962), also known as the SIV Building, in the New Belgrade of the former Yugoslavia.
My research in Belgrade was focused on the SIV Building itself, now the Palace of Serbia and host to the central government. After viewing many photographs of this landmark architecture, I still was overwhelmed by its gigantic scale and unparalleled monumentality.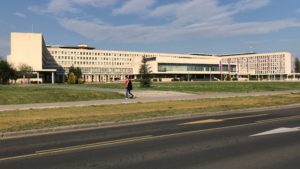 Designed in an H-shape that covers an area of 65,000 square meters, this massive white complex envelops its visitors and immediately conveys the power of its nation. Office structures on either side and one multi-purpose pavilion in the center organize the space into a statement of modernism.
Sandra Vesić Tesla, the art curator, introduced me to many rich details about the interior design and art collection of this building, showing me photos of the interior spaces and the original archives. Unfortunately, during my time in Belgrade, I was not allowed to tour inside the building because a high-level governmental summit was being held there. Merely walking around this building, even with Serbian police officers closely monitoring, was tremendously useful for my understanding of its social status and impact in early 1960s Belgrade.
Not permitted to take photographs of the SIV Building, I decided to visit the Cultural Heritage Preservation Institute of Belgrade. Art historian Hajna Tucić was generous with her time, presenting an overall history of urbanization in Belgrade all the way back to the Ottoman occupation. She gave me a published monograph on the SIV Building whose rich contents featured architectural drawings as well as photographs.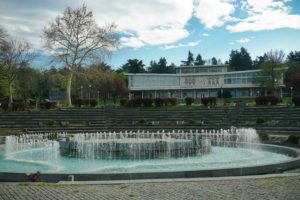 Vesna Pavlović, associate professor of art at Vanderbilt, arranged for me to meet historian and researcher Radovan Cukić at the Museum of Yugoslavia. Cukić enlightened me about finding photographic evidence for Sino-Yugoslavian political and cultural exchanges. He also taught me how to navigate their online photo database, offering to help me find these photographs in high-resolution. His insightful comments and suggestions for my honors thesis were invaluable.
Visiting the Museum of Yugoslavia was also essential from an architectural perspective, as this very structure was designed by the same architect of the SIV building, Mihailo Janković. It was also a must-see for anyone traveling to Belgrade.
In the courtyard of the museum is the House of Flowers, the resting place of Josip Broz Tito. Formerly Tito's auxiliary office with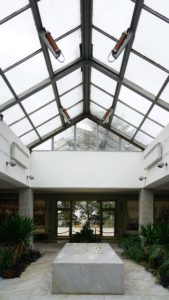 enclosed garden, this mausoleum also holds the most complete collection of Tito's personal items, including a collection of more than 40 trophies presented to Tito in various representational forms of a hammer. I enjoyed talking with other visitors at the site as these brief conversations revealed how Tito was viewed by people from various social and cultural backgrounds: a group of Chinese government officials paying tribute to their "old friend" Tito, another couple from Britain finding their roots in their parents' hometown, and a Spanish family unaware of who Tito was before coming to Belgrade.
Traveling and researching in Belgrade was critical to my honors thesis because the former Yugoslavia is a political and ideological result that is remote and unimaginable to my mindset. Wandering the streets of Belgrade and viewing residential buildings that survived from that period, I can sense the vibrancy of Belgrade in the early 1960s: people full of hope and passion for a modern nation rebuilding their city after World War II. After rounds of conflicts and wars in the 1990s, the architecture of Belgrade by pioneering believers of modernism documented the broken society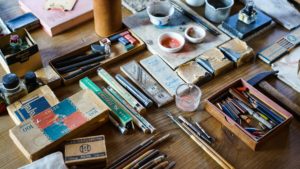 and its history with concrete and steel. I will never forget the hospitality of the Serbian people, especially the scholars who helped me on this trip and my Airbnb host who was, with his father, waiting for me at the bus station when I arrived at four o'clock in the morning.
I offer my sincere gratitude to the Downing family not only for their generosity in establishing a grant for student travel and research but also for their role in opening my eyes to the cultural significance of Belgrade and Ljubljana. I am deeply indebted to the History of Art Department for supporting my project and training me, especially Professor Betsey Robinson for offering generous support for my trip to Belgrade, and Professors Vivien Fryd and Elizabeth Moodey for advising me on planning this research trip. I also want to acknowledge Professor Vesna Pavlović with the Department of Art for generously guiding me through Belgrade and connecting me with scholars and institutions. Last but not least, I owe special thanks to my major advisor, Professor Kevin Murphy, and my thesis advisor, Professor Matt Worsnick.
Photographs courtesy of Qisen Song, BA'20: Tall buildings at center—Edvard Ravnikar, NLB Tower and TR3, Republic Square, Ljubljana, Slovenia, 1971; Mihailo Janković, Federal Executive Council (SIV) Building, Belgrade, Serbia, 1961; Mihailo Janković, Museum of Yugoslavia, Belgrade, Serbia, 1962; Tito's Tomb, House of Flowers, Belgrade, Serbia, 1980; and Jože Plečnik's desk as it was at his death in 1957, Hiša Plečnik, Ljubljana, Slovenia, 2016.
---