Home » Divinity School » Andrea Seri to Present "Cultures in Clay" Lecture on February 6
Andrea Seri to Present "Cultures in Clay" Lecture on February 6
Posted by vrcvanderbilt on Tuesday, February 5, 2019 in Divinity School, Events, HART, Lectures, News, Vanderbilt University, VRC.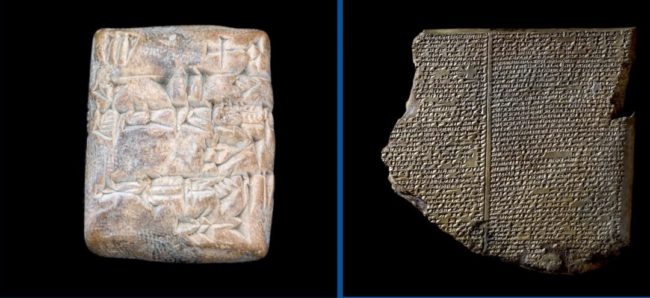 Often called the cradle of civilization, the ancient Near East witnessed the emergence of remarkable cultures from the fourth through the first millennia BCE. From those cultures surfaced novel systems of writing that addressed the range of lived experience, artistic and literary expression, and history and politics. While plentiful but not ubiquitous, clay became the medium for communication in inscriptions, in addition to its role as an essential material for construction, figurines and utensils.
Andrea Seri, professor of ancient history, Universidad Nacional de Córdoba in Argentina, will present a lecture entitled "Before Noah: Gilgamesh and the Flood" on Wednesday, February 6, at 4:10 pm in Cohen Hall 203. Seri is visiting Vanderbilt in conjunction with the Cultures in Clay exhibit at the Divinity Library, which showcases original artifacts from this period, as well as photographs and descriptions, to provide an overview of these civilizations and their contributions to our understanding of the ancient Near East.
The exhibit draws from two prominent Vanderbilt collections: the Cuneiform Tablets Collection, donated by the family of James Stevenson in 1989, and the Arno Poebel Collection, acquired by the Divinity Library in 1968. Stevenson was a biblical scholar and Assyriologist who was a longtime faculty member at Vanderbilt. His tablets date from around 2000 BCE. Poebel was an internationally esteemed scholar of ancient Near Eastern studies who wrote extensively in the field of Sumerian language and literature. His collection is rich in cuneiform text illustrations and dictionaries covering a variety of ancient languages.
Seri contributed her expertise toward identifying and translating the Stevenson tablets. Free and open to the public, her lecture is sponsored by the Program in Classical and Mediterranean Studies, Divinity School, and Divinity Library. Parking is available in all non-reserved spaces in Lot 95 near Cohen Hall on the Peabody campus.
---