Home » Digital Humanities » Emily Jordan Presents Digital Heritage Project at Celebration of Learning
Emily Jordan Presents Digital Heritage Project at Celebration of Learning
Posted by vrcvanderbilt on Wednesday, February 13, 2019 in Digital Humanities, Events, HART, News, Student/Alumni, Vanderbilt University, VRC.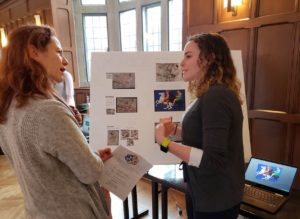 Emily Jordan, a student in Betsey Robinson's fall semester HART 2815 course, Digital Heritage: Methods and Practice, participated in the Center for Teaching's Celebration of Learning held February 4 in Alumni Hall. The event, "an exhibition of students as producers," featured students from all over campus sharing what they have learned, created, designed, and discovered, and providing the Vanderbilt community with a picture of deep learning across the colleges and schools.
Jordan proposed a virtual reconstruction for a sculptural panel from the west frieze of the Parthenon (ca. 447-438 BCE); thus her project title, "Digital Restoration of Block XI of the Parthenon's West Frieze." Her reconstructed panel shows a pair of mounted riders astride their horses as active participants in the Panathenaic Festival procession, the subject of the Parthenon frieze that ran continuously around the upper part of the cella's exterior walls.
In Robinson's course Jordan studied the history of the Parthenon and its sculpture, the cultural meaning and significance of its sculptural decoration, and how the creation of 3D digital models can be applied in documenting, restoring, and analyzing cultural heritage. Robinson, acting chair and associate professor of the history of art, team-taught the class via videoconferencing with Bernard Frischer and Matthew Brennan, professors in the Department of Informatics at Indiana University and virtual archaeologists, who work with digital technologies to reconstruct and visualize historic and cultural heritage sites, landscapes, architecture, and ancient artifacts.
*Photograph courtesy of Betsey Robinson
---