Home » HART » Christopher Johns Publishes Essay on Maria Tibaldi Subleyras
Christopher Johns Publishes Essay on Maria Tibaldi Subleyras
Posted by vrcvanderbilt on Thursday, June 20, 2019 in HART, News, Vanderbilt University, VRC.
Christopher Johns, Norman L. and Roselea J. Goldberg Professor of History of Art, has written an essay, "Making History at the Capitoline Museum: Maria Tibaldi Subleyras's Christ in the House of Simon the Pharisee," which was published this year in Eighteenth-Century Studies (Volume 52, Number 2).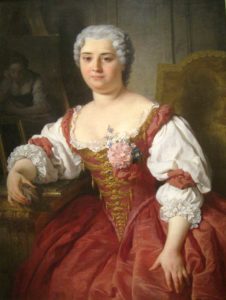 Johns wrote this essay in memory of Mary D. Sheriff—"scholar, teacher, and dear friend." Maria Tibaldi Subleyras (1707-1770) is exactly the kind of "historically significant but relatively neglected artist who would have interested Mary, who devoted much of her career to illuminating the contributions of women artists like her."
Maria Felice Tibaldi, one of the most important painters active in Rome in the mid-eighteenth century, was married to Pierre Subleyras (1699-1749), an expatriate French artist whose prominent career as a painter in Rome "largely overshadowed his wife's remarkable achievements," noted Johns. One of Tibaldi Subleyras's paintings, Christ in the House of Simon the Pharisee (1748), was "very likely the first work by a living artist purchased for display in a public museum"—the Pinacoteca Capitolina established by Pope Benedict XIV Lambertini in 1751-1752.
Still on display in the Capitoline, it is a miniature copy in watercolor on vellum of her husband's celebrated oil painting executed less than a year before he died. Its themes of penitence and charity, said Johns,  "would have strongly appealed to Benedict XIV, who was one of the most notable figures in enlightened efforts to modernize the Church by stressing its duty to alleviate human suffering through institutions such as hospitals, almshouses, and shelters for penitent prostitutes."
Tibaldi Subleyras was virtually forgotten by the art history world until the twentieth century. A number of recent exhibitions have focused on Pierre Subleyras, often including his portraits of his wife. "Is it not time to investigate Tibaldi Subleyras's career independently of her husband," asked Johns.
*Mary D. Sherriff (1950-2016), internationally celebrated art historian and beloved teacher, was the W.R. Kenan, Jr. Distinguished Professor of Art History at the University of North Carolina at Chapel Hill. She specialized in eighteenth-century French art and transformed the field by re-evaluating rococo painting, introducing feminist perspectives, and examining European art in a global context.
**Pierre Subleyras. Portrait of Maria Felice Tibaldi Subleyras, oil on canvas, ca. 1738-1739, Worcester Art Museum, Worcester, MA  (courtesy of Wikimedia Commons)
---