Home » Events » HART Majors and Minors Honored at Graduation Reception
HART Majors and Minors Honored at Graduation Reception
Posted by vrcvanderbilt on Tuesday, June 4, 2019 in Events, Fine Arts Gallery, HART, News, Student/Alumni, Vanderbilt University, VRC.
Betsey Robinson, associate professor and acting chair of Vanderbilt's History of Art department, and HART faculty and staff honored our majors and minors and their families at the department's annual reception for graduating seniors in the atrium of Cohen Memorial Hall. Following Robinson's warm welcome and introduction of the faculty and staff, awards were presented and outstanding students recognized for their accomplishments.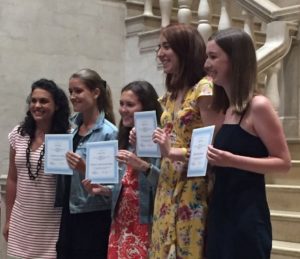 This year the Cooley Prize for the highest grade point average in the history of art department was shared by four students. Graduating summa cum laude with a 4.0 GPA were Elizabeth Cynthia Emoki Horner (history of art and political science), Katherine Lynn Murphy (history of art and human & organizational development), Kathryn Sarah Roach (history of art and elementary education), and Isabelle Sophia Sagraves (history of art and English).
Elizabeth Horner graduated summa cum laude with highest honors from the History of Art Senior Honors Program.  Horner's honors thesis was entitled "Art in War: The Legal Implications of Looting, Repatriation, and Restitution in World War II," and her faculty advisor was Christopher Johns, Norman L. and Roselea J. Goldberg Professor of History of Art.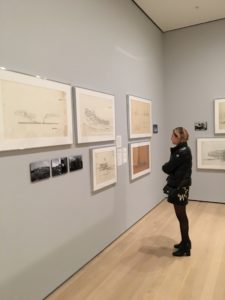 Lillian Claire Boyle, BA'18, is the department's first student to complete the 4+1 program, thereby earning the master of arts degree. Boyle's research focused on museums (MOMA, among others) and their efforts to become more inclusive. She worked with Leonard Folgarait, Distinguished Professor of History of Art, and recently returned from Cuba, having completed an independent study with Maria Magdalena Campos-Pons, Cornelius Vanderbilt Chair of Fine Arts and professor of art.
Boyle also was a 2018-2019 Downing Award recipient as were Daniel Freedland (history of art and human & organizational development and economics), Maris Paden (history of art and medicine, health & society), Elizabeth Horner (history of art and political science), and Janna Adelstein (history of art and history and political science). The department awards these Downing grants for travel to exhibitions and research centers to supplement academic instruction for graduate students and HART majors who are enrolled in the Honors Program, in advanced seminars, or in upper-level "W" (writing) courses.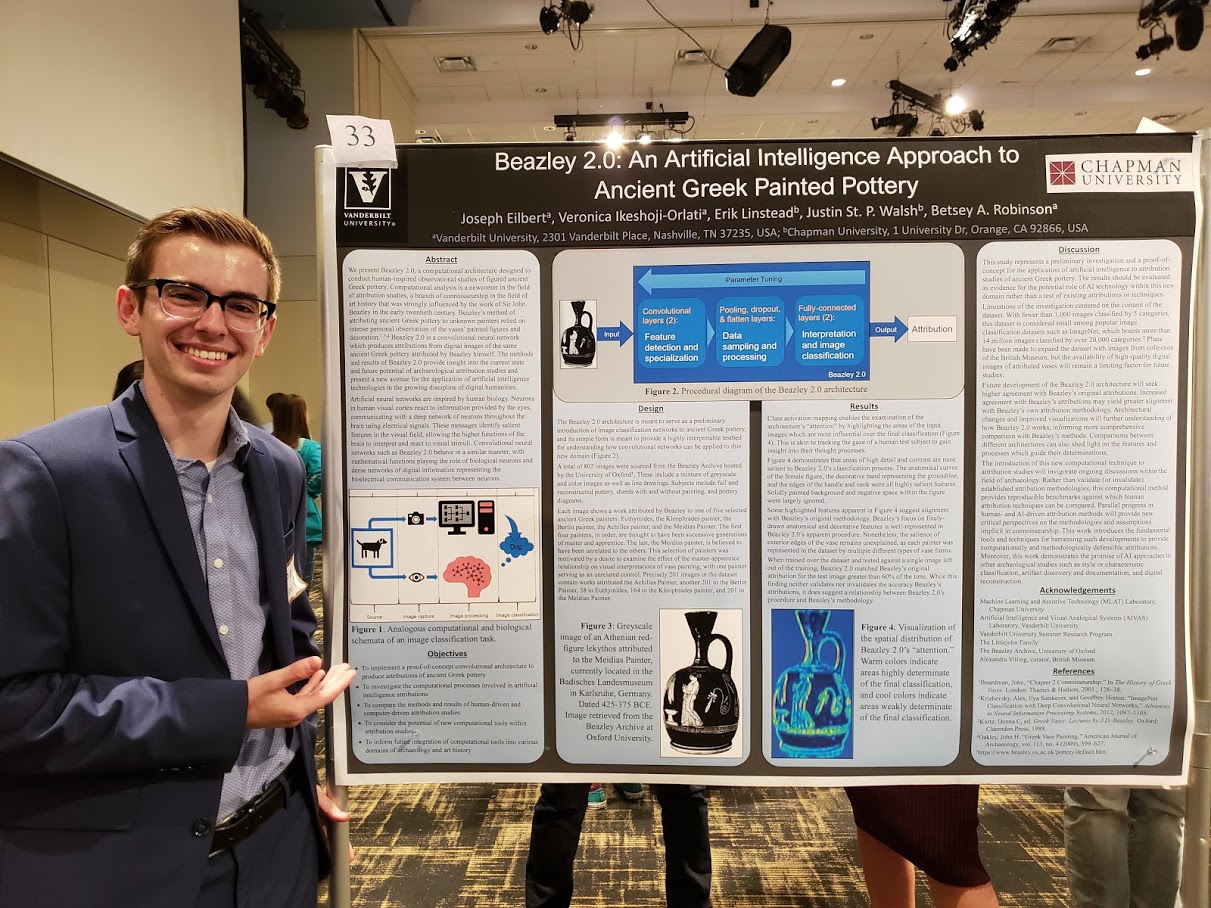 Joe Eilbert (history of art and physics) was recognized for his exceptional poster and presentation at the annual Vanderbilt Undergraduate Research Fair. Eilbert presented Beazley 2.0: An Artificial Intelligence Approach to Ancient Greek Painted Pottery. Betsey Robinson was his faculty mentor, and Eilbert presented his work at the 120th annual meeting of the Archaeological Institute of America (AIA) held this year in San Diego.
Held in conjunction with the celebration of our graduates was the opening reception for a student-curated exhibition entitled Refuting "Noble Savages:" Reflections of Nature in Ancient Mesoamerican Artifacts. On view through September 13, the exhibit features a collection of ancient Latin American artifacts curated by undergraduate students as part of a semester-long course (Exhibiting Historical Art—Daily Life in Mesoamerica) taught by Markus Eberl, associate professor of anthropology. The exhibition focuses on the connection between nature and culture among pre-Columbian Mesoamerican people (ca. 500 to 1500 CE), the artifacts on view elucidating their daily life and beliefs.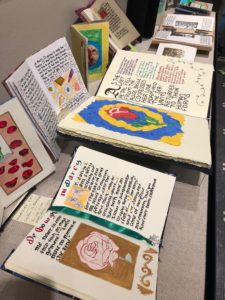 Another exhibit on view in the display cases of the Cohen atrium are the handmade books created and decorated by the students of Elizabeth Moodey, associate professor of history of art, for her HART 2288 course, Art of the Book.
"Illuminated manuscript (literally "handwritten") books are arguably the most characteristic objects of the European middle ages, but contemporary artists have also responded to the challenge of making a book by hand," said Moodey. "Inspired by those traditions, each of the students chose a favorite text and acted as both patron and artisan for the books on display."
Earlier in the day, the Class of 2019 had attended the Senior Day address of Venus Williams, tennis champion, entrepreneur and equal rights advocate, who shared with the graduates her number one lesson: "Help others. You have to make life bigger than you."
---