New Oracle Cloud Feature: Quick Actions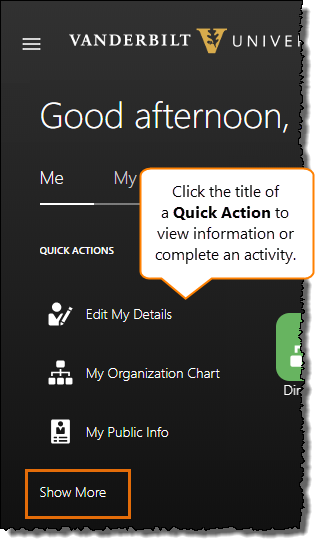 A new feature called Quick Actions is now available on the home screen in Oracle following the Oracle Cloud upgrade during the weekend of February 15-16.
Many Employee, Manager and HCM activities that required selections from multiple menu options are now available with fewer clicks.
Getting Started
A few quick actions are listed for each category of applications directly on the home screen.
There are many more Quick Actions available, and you can view all of the available options by clicking Show More.
Using Quick Actions as an Employee
For example, selecting Show More from the Me menu provides faster options for employee activities such as:
Updating personal information (Edit My Details);
Viewing a payslip or 2018 Form W-2 (Payslips and Year-End Documents, respectively); and
Viewing PTO balances and requesting time off (Add Absence)