SkyVU Website and Resource Migration Updates
The SkyVU website was recently updated to improve the availability of resources for all users – particularly those new users who are getting started using Oracle Cloud.
New Landing Page: Getting Started with Oracle Cloud
Upon login, users will now see links to pages that will help new users log into Oracle Cloud and get started with basic information, in contrast to the role-based links previously displayed that were focused on various roles and responsibilities.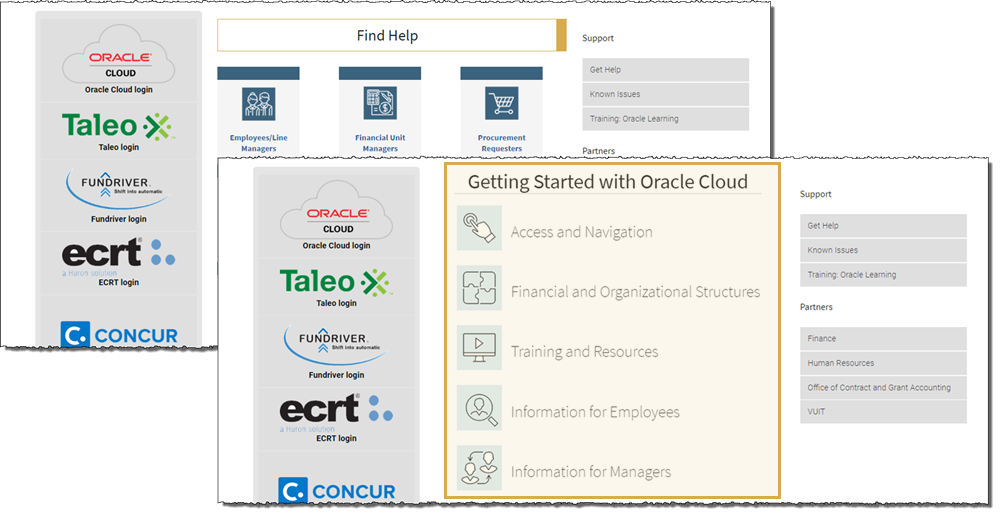 Resources Migrated: Now available in the Help Center within Oracle
Over the past two years, the Process & Systems Optimization team has collected and posted various Oracle Cloud resources on our website.  However, we were unable to tag these resources by role or topic or to provide a dedicated search.
With the recent upgrade to the Help Center in Oracle, we have been able to migrate the resource links into the Help Center and then tag them to allow for keyword searches.  With this update, users will no longer need to leave Oracle Cloud to locate the support documents they need on a separate website.  In addition, Oracle will automatically suggest resources and links based on a user's role and page location within the system.
How to Use the Help Center
To use the Help Center, click the icon on your Oracle screen to open the panel and then:
Review the list of available guides or enter a keyword to view additional resources;
Click the name of a guide to launch the in-system guidance or review the resource link; and/or
Click the arrow icon to view or email a copy of the steps.
Menus Revised: Resources and Administration tabs provide more information
In addition to updating the Resources tab to reflect the changes summarized above, we have also added new Administration pages for users looking for additional information about the Process & Systems Optimization team or resources about the system and related business processes.