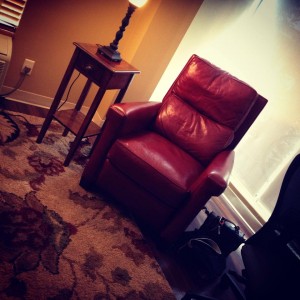 I have a new favorite place on campus.  It may not look like much–small room with a recliner and a lamp, a desk with a computer and handbook, a tv screen with assorted DVDs–but it's a little oasis tucked into a corner room at 2015 Terrace Place. More comfortable than its name, the Mind Body Lab is available for Vanderbilt students for 45 minutes of stress relief, relaxation, and resilience.
I spent part of my morning there today for an extended session–doing research, of course, for this blog. I started at the desk with the User's Guide, which briefly acknowledged the anxieties of the university experience and the importance of stress management and self-care.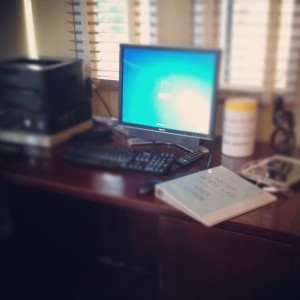 On the next page, the manual instructed me to sit comfortably in the recliner (above) with the room's iPad in my lap and its sensor clipped to my earlobe. The Inner Balance app guided me me through 15 minutes of oh-so-comfortable breathing, a few good memories, and an eased heart rate. All of the thoughts of the morning [I-forgot-my-lunch, what-would-I-do-for-lunch? would-I-have-enough-time-today-to-write-this-blog-post? would-my-car-get-a-parking-ticket? oh-my-colleague-___-would-loooooove-this-experience-right-now!] settled somewhere on the floor, out of sight. At the end of 15 minutes, I wanted more, so I just kept going.
But there was more. A direct link to the Mind Body Lab page took me to a handful of guided relaxation techniques.  I did the one for public speaking anxieties and another for taking an exam.  These resources are available on the internet from anywhere, but I found myself noticing the luxury of having a private, comfy room dedicated completely to an intentional "pause" or "reset" button. I spend plenty of time out here in my life practicing mindful relaxation in a variety of ways, and 98% of the time there's something else going on around me.  Not here. Not in this little room.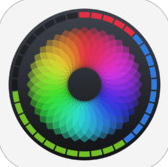 All day, the undulating rainbow slinky from the Inner Balance app has reminded me to slow down my breathing and focus on my heart. Aaahhhhh. And I didn't get a ticket, I easily grabbed lunch on the way to the office, I've written this blog post and finished and submitted a revision of a manuscript and wrote an outline of a plan for an IRB submission and selected and announced the next book for our office book group, and I told my colleague about the experience. I went back to the MBL page and did the guided 7 minutes of Chair Yoga. Even though I had less time in my office today, I seem to have gotten more done, and I'm ready to go home, go for a run, and curl up with my current unguilty-pleasure-book.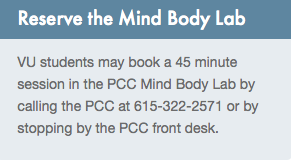 Unfortunately, as part of the PCC (Vanderbilt's Psychological Counseling Center), the Mind Body Lab is specifically for Vanderbilt students. Certainly, they need it. I'm going to proactively share it with my students, both undergraduate and graduate. I'm going to encourage my colleagues to share with their students. I'm already thinking of a way to integrate it into syllabi.
I'd like to know how we can get a Mind Body Lab for faculty and staff.  All we'd need is a tiny room, a chair, an iPad, and a computer. Imagine having a room like this here and there on campus. Those of you who are elsewhere, imagine having one on your campus.  Actually, let's do more than imagine.  I'm going to do a little investigating.   Will report!
Practice

I like this 8-minute audio for a "4-7-8 Breath."* It's simple to do, and it begins with an explanation of the physiological effects of the practice.
—
*  I had to click "allow" on a pop-up window on several computers. Something about QuickTime.  But then it worked.