Facilities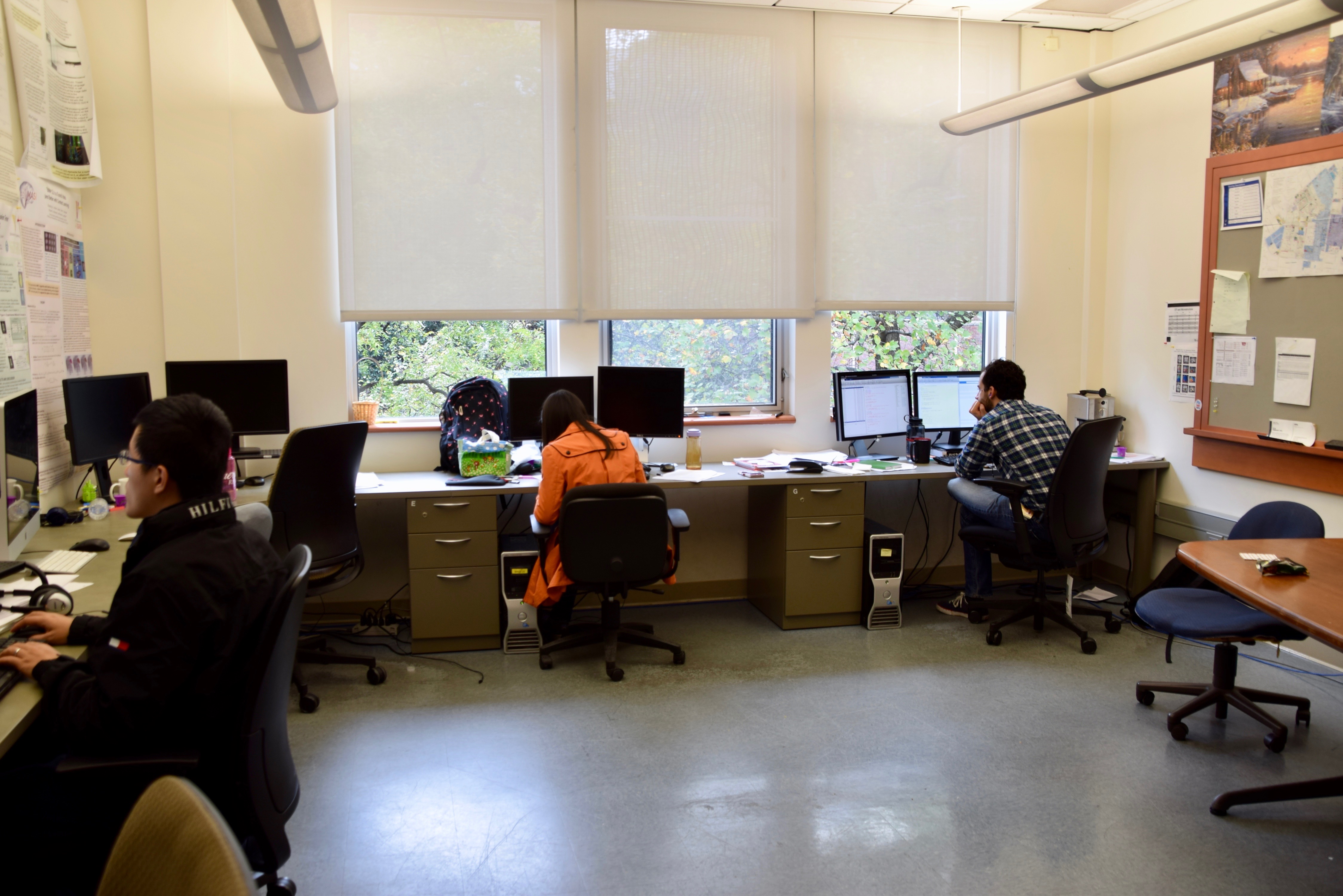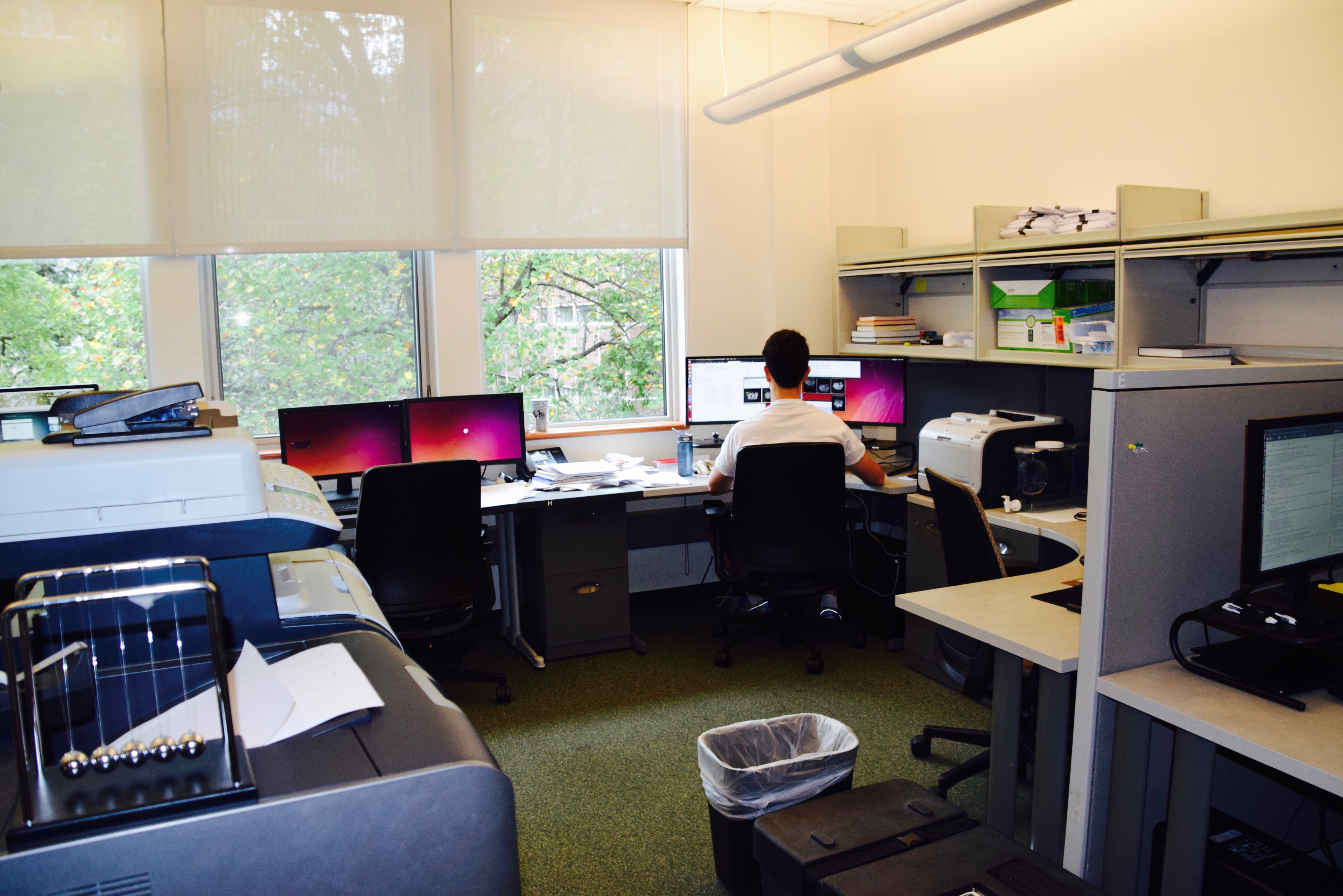 Medical-image Analysis and Statistical Interpretation Lab
Dr. Landman leads the Medical-image Analysis and Statistical Interpretation (MASI) lab at Vanderbilt University. The lab occupies 885 square feet on the third floor of Jacobs Hall. Additionally, the MASI lab has access to graduate student offices, a shared Electrical Engineering server room, and rack space in the Vanderbilt Advanced Computing Center for Research & Education (ACCRE) facility. The laboratory spaces and server room are connected with a private gigabit network. There is a dedicated gigabit VLAN (virtual local area network) between the MASI Jacobs Hall network and the ACCRE facility in the Hill ITS building. All resources are protected behind a custom firewall and a network address translation (NAT) layer. In accordance with IRB and HIPPA regulations, all data are stored in locked facilities and only encrypted password protected access is permitted.
The MASI Jacobs Hall facility has 17 visualization workstations (each with at least 512 MB 3D graphics card, quad-core 3 GHz CPU, 12 GB of RAM), a public gateway server, a duplex laser printer, a duplex color laser printer/scanner/copier, and a hardware firewall. The MASI Lab houses two custom gateway servers at the ACCRE facility with direct 10 gigabit links to the ACCRE super-computing grid. One hosts 94 terabytes of near-line SATA storage (fiber attached), which is shared across the VLAN. Both provides 54 3 GHz cores and 196 GB of RAM. The MASI lab operates a private evaluation and rapid prototyping cluster with 408 CPU-cores, 1144 GPU-cores, and 1716 GB of RAM. Two NVidia Tesla M2070 (each 448 CUDA Cores, 6 GB of RAM, 1.03 Tflops) are available for rapid prototyping with the Matlab-enabled Jacket Library (Accelereyes, Atlanta, GA). Additionally, MASI currently leases 560,000 CPU-hours of compute time per year on the campus high performance computing facility (see below). Additional rack space, power supply, and HVAC for at least 18U of new systems are available at both server facilities.
Center for Computational Imaging
The Vanderbilt University Institute of Image Science (VUIIS) operates the Center for Computational Imaging (CCI) within the Human Imaging CORE (HIC). The mission of the CCI is to support collaborative image processing research at Vanderbilt by (1) creating infrastructure to interface medical image processing with high performance computing, (2) supporting implementation and standardization of medical image processing, and (3) facilitating collaboration on medical image processing. The CCI's primary focus is on studies conducted at VUIIS, but the CCI actively support VUIIS participation in multi-university studies. Bennett Landman, Ph.D. has served as director of the CCI since 2010.
To support image processing, the CCI operates (1) a research only PACS for VUIIS human imaging scanners (3T MRI, 7T MRI), (2) the XNAT.vanderbilt.edu instance of XNAT (which runs on a custom HyperV virtualization cluster with 80 TB of near-line storage and direct access to the ACCRE high performance computing facility), and (3) the Distributed Automation for XNAT (DAX) services that automate distribution of computation from xnat.vanderbilt.edu to the ACCRE compute grid (which leases 200 CPU-core years per year). As of February 2016, VUIISXNAT contains 261 projects, 36,169 subjects, and 63,218 imaging sessions.
To support implementation and standardization, the CCI administers open-source repositories for medical image processing routines using the NIH supported Neuroimaging Informatics Tools and Resources Clearinghouse (NITRC) infrastructure. The modules (called spiders: http://xnat.vanderbilt.edu/index.php/CCI_processes_with_XNAT) capture all necessary providence so that image processing routines can be reproducibly executed across projects. All spiders can be executed within DAX using the ACCRE grid, on private/secure grids, or in standalone fashion on workstations/laptops.
To support collaboration, the CCI operates weekly problem solving work-sessions / face-to-face hack-a-thons. All community members are welcome to the open meetings during which concerns are raised, issues are identified, and potential solutions are addressed. The CCI uses Trello for graphical project management, bug reporting, task monitoring, and user follow-up. Additionally, the CCI runs an e-mail mailing list and online collaboration community forum. The core CCI team of collaborators consists of approximately two dozen staff engineers, post docs, and graduate students / research associates and supports an extended community of researchers.
Dr. Landman and the CCI have a track record of community building around medical image processing. He developed and his group supports the Java Image Science Toolkit (JIST, open source on NITRC: https://www.nitrc.org/projects/jist/), which has been downloaded 14,370 times since 2009. Additionally, he has released and supported widely used MRI data resources at both 3T and 7T (Multi-Modal MRI Reproducibility Resource, on NITRC: https://www.nitrc.org/projects/multimodal/), which has been downloaded 21,407 times since 2009. More recently, the CCI group has released the DAX system for integrating REDCap, XNAT, and high performance computing (open source on GIT: https://github.com/VUIIS/dax).
Vanderbilt University Institute for Image Science (VUIIS)
Dr. Landman and the MASI lab are affiliated with the Vanderbilt University Institute for Image Science (VUIIS). The VUIIS Center for Human Studies provides facilities and technical support for structural, metabolic and functional imaging of human subjects. Facilities include two state-of-the-art 3T MRI scanners (Philips Healthcare), one of only a handful of 7T scanners worldwide (also Philips Healthcare), Near Infra-red Optical Topography (NIROT), and Event-related potential (ERP) electroencephalography. VUIIS faculty members also have access to extensive clinical imaging resources including PET, PET-CT, and 1.5T MRI.